These 1000-piece puzzles will help you unwind, just be in the moment, and find unbusy — gorgeous eye (and mind) candy!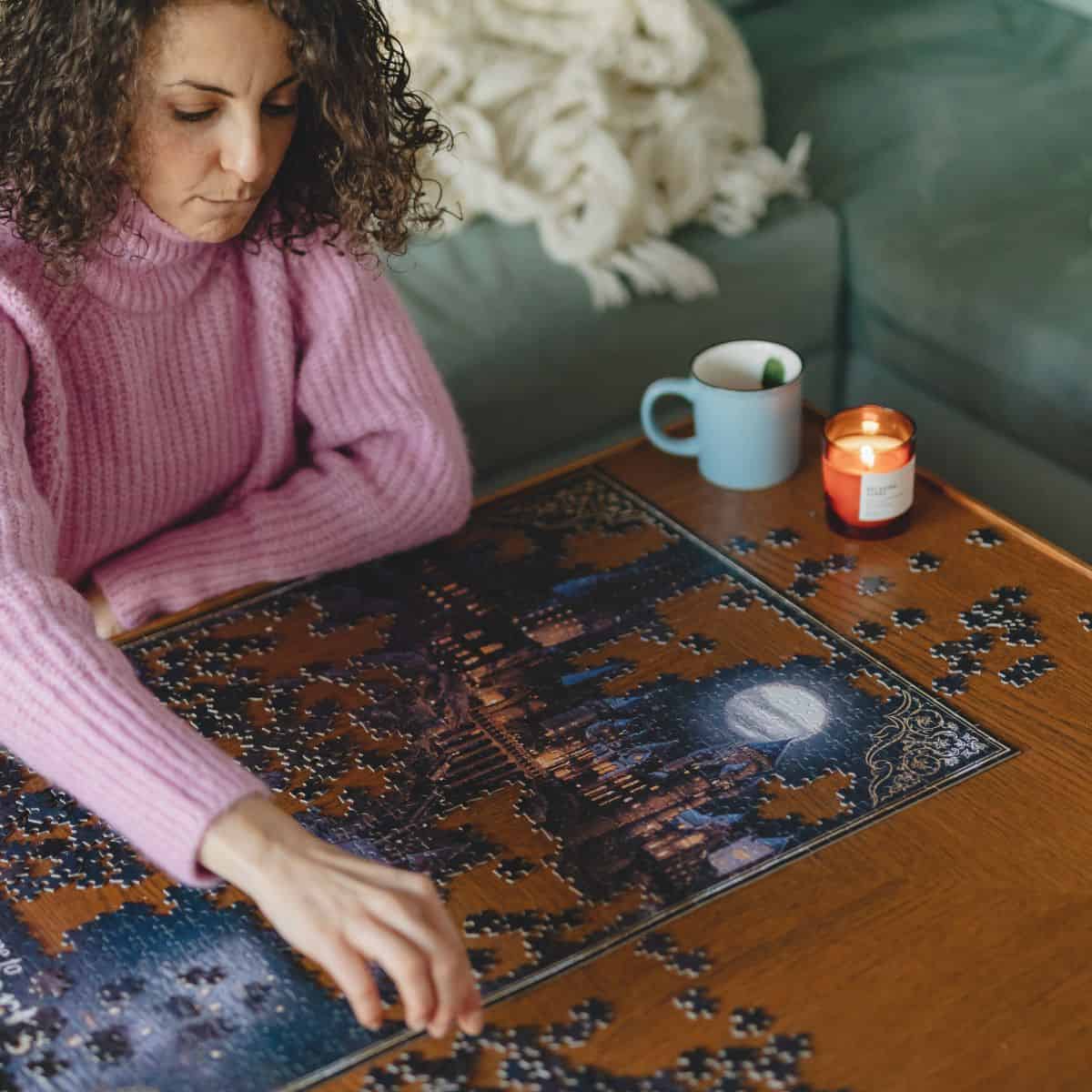 Unplug from the stresses of everyday life
Come 8 pm, swap screen time with a 1000-piece puzzle. Slow down, put your screens away, and meditate with one of these fifteen beautiful jigsaw puzzles.
I started doing jigsaw puzzles as a way to connect with my daughter and fell in love with them. Working on a 1000-piece jigsaw puzzle can be used as a tool to start a meaningful conversation or unwind in solitude.
Puzzles are a healthy distraction
After a long day, working on a puzzle is an easy, screen-free way to unwind and enter a state of mindfulness. Working through the pieces and figuring out where they fit within the bigger picture is incredibly satisfying and calming. Puzzles are an effortless way to combat stress and anxiety.
Turn off your phone and get swept away in one of the 1000-piece puzzles below. As you work through completing the puzzle, both sides of your brain work together to increase cognitive function. Jigsaw puzzles are the ultimate brain workout for neurobusy people.
Dive Deeper
Why these are the best 1000-piece puzzles for becoming unbusy
Picking the right puzzle can mean the difference between loving and hating the experience. Below is a list of considerations when picking the right puzzle to help you find unbusy moments.
Choose a puzzle that is meaningful to you. All the puzzles below have an unbusy theme: transformation, forest bathing, neurobusy masking, travel, or connection.
Choose a size that feels challenging but not overwhelming. The satisfaction of completing a 1000-piece puzzle is the sweet spot for many people.
Choose a design that offers small wins. If you're puzzling to reduce stress, I recommend choosing collage-style 1000-piece puzzles. Completing a butterfly, bird, or vintage postcard feels like a tiny motivational victory.
Choose beautiful. Ravensburger Puzzles is a go-to brand for many fanatics, but I recommend investing in visually beautiful puzzles that feel like a work of art or emotionally move you.
Choose quality. Not all puzzles are created equally. A higher-quality puzzle's sturdiness, thickness, finish, and cut enhance the experience, especially if you are sensory-sensitive or neurobusy.
Consider sustainability. Read a bit about the different brands before you buy. Some higher-quality puzzles are made responsibly from FSC-certified material, printed with non-toxic or soy-based inks, and use up to 90% recycled materials.
Consider clutter or repurposing. Our family loves Cavallini puzzles because the pieces are packaged in a hand-sewn muslin bag inside a sturdy (and beautiful) tube. The puzzle tubes are bookshelf-display-worthy. They also make it easy to confidently re-gift without fear of losing pieces!
1000-Piece Puzzles
Swap screen time with one of these beautiful, unbusy-inspired 1000-piece jigsaw puzzles. Below are fifteen puzzles to help you unwind — gorgeous eye (and mind) candy!
Love this collection of 1000-piece puzzles? Sharing it would make our week ♥
It would make our week if you took a second to save or share this post. That's how we know we're on the right track and should continue creating more content like this!