Opt-Out of Overwhelm
RESET + DESIGN A SIMPLE LIFE
The UnBusy Collective is a membership and private community (off of social) that brings women together to unclutter, reset and make space for a simple life.
*Join the waitlist and be the first to know when the doors open again.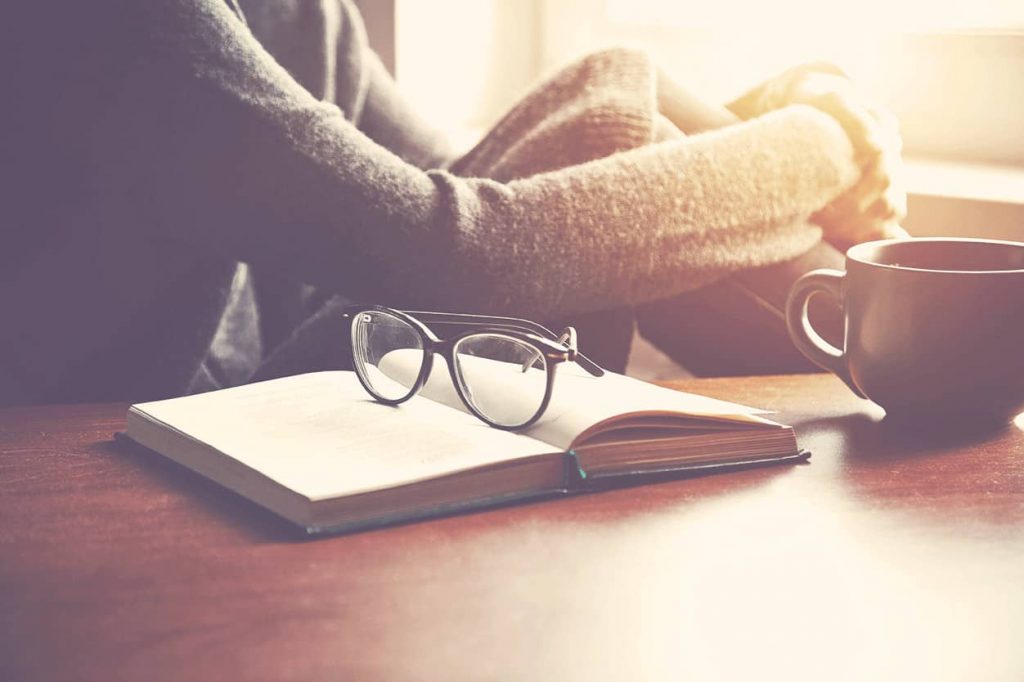 Imagine waking up in the morning with a sense of calm
… knowing you're taking real steps toward simplifying.
You've been ready for a reset for a while now, but overwhelm has kept you stuck in place.
Imagine that room by room, your home becoming a place of refuge, joy, and connection rather than a source of overwhelm.
When you become a member of the Becoming UnBusy Community…
You'll develop mindsets, routines, and a home that takes the chaos out of everyday living, so you find time to focus on what really matters in YOUR life.
It's time to de-crapify your home to make space for new beginnings.
The more stuff I donated, the more I was able to breathe. The more trash I threw away, the more weight I felt lifted. The more stuff out of our home, the more I was able to see a new life. The more uncluttered I lived, the more joy I found.
— ZINA HARRINGTON
The simple life you want is REALLY possible.
Forget about getting it perfect, just take the first step.
The path to a simple life is not a straight line. It's less about finding that one perfect organizational solution and more about using an accurate map to design the life you want. Take the first step — press reset and join the UnBusy Community.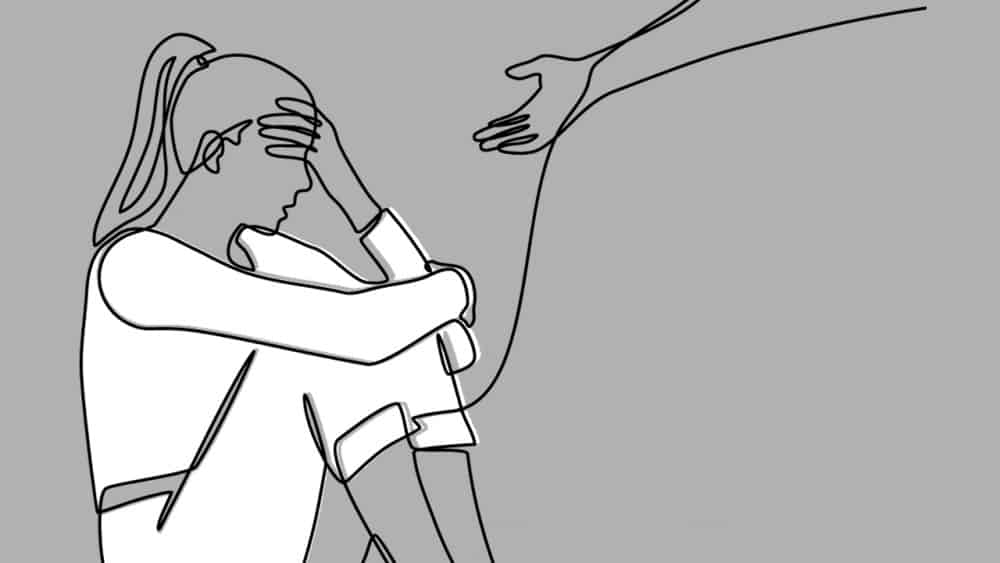 Press reset and declare you're ready to start a new chapter
---
1 — Press Reset
Clear clutter in your home + life to make space for a new you
---
2 — Reset Your Space
Renovate unhealthy mindsets and self-limiting beliefs
---
3 — Reset Mindsets
Design spaces with purpose to foster connection and joy
---
4 — Reset Your Home's Purpose
Master micro-habits for an uncluttered home and life
---
5 — Design a Simple Life
Women tend to weave through these five common transitional steps as they reset. We cover each of these interdependent steps on this intertwined cycle of progression in our monthly prompts and community meet-ups.
There's a reason why decluttering your physical space feels so good. It declutters your mind, clears your energy field, and creates space for new and exciting things to come your way.
— SHANI JAY
A Private Invite-Only Space (Off of Social) For You To Reset
The UnBusy Community offers a safe space off of social for you to reset, along with guided support to help you opt-out of overwhelm, clear the clutter, and make space for a simple life.
No distraction or overwhelm.
✓ Guided Support
Unique simple living prompts are released every month
✓ Collaborative Exercises
Unclutter your home and unhealthy mindsets with weekly meet-ups
✓ See Progress
Celebrate small wins and discover your next opportunity
Taking care of yourself is the most powerful way to begin to take care of others.
— BRYANT MCGILL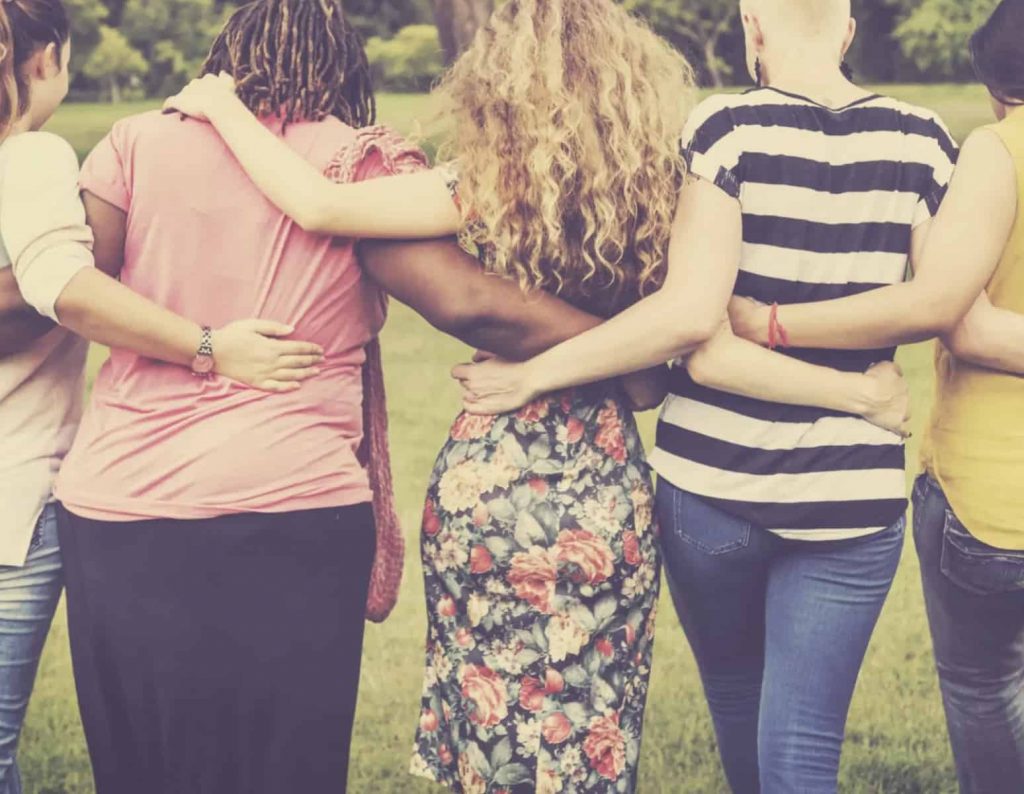 The Becoming UnBusy Community is Invite Only + Intentionally Small
We intentionally keep the UnBusy Collective small so we can hold space for each other.
"Holding space for someone means that we are willing to walk alongside another person in whatever journey they're on without judging them, making them feel inadequate, trying to fix them, or trying to impact the outcome. When we hold space for other people, we open our hearts, offer unconditional support, and let go of judgment and control."
— HEATHER PLETT, PATHFINDER
Be One Of The 75 — Get On The Waitlist
The membership opens three times a year, each January, April, and September. Join the waitlist and be the first to know when the doors open again.
I'm Zina, Founder of Becoming UnBusy
My journey toward simplicity began twelve years ago, over coffee.
As she sipped her latte, my friend asked, "How do you do it all?"
She asked, not as a question but as a compliment.
I laughed, and my stomach sank.
On the outside, I looked like a mom balancing a career, parenting, and life … even to my closest friends.
On the inside, the stress of the constant chaos of our home and my neverending to-do list was overwhelming.
I realized I needed to start caring for myself, so I could better care for my family.
I decided to hit the reset button and began to move toward tangible daily wins.
I Hit Reset…
I started to ask myself what self-care really looks like.
I began to declutter our home and change my relationship with stuff. I guided our family, and we made a commitment to choose experiences over things. Author Shani Jay explains…
"There's a reason why decluttering your physical space feels so good. It declutters your mind, clears your energy field, and creates space for new and exciting things to come your way."
I began to find peace on a chaotic day, replace chaos with calm in our home, and move toward an UnBusy Life. Our family was happier, healthier, and more connected than ever.
Sometimes Overwhelm would tell me a simple life is impossible.
Overwhelm is a liar.
---
*Join 500,000 people following the UnBusy Movement on Facebook. Find me sharing daily inspiration on Instagram with over 25,000 intentional like-minded people.
You don't have to solve your whole life overnight. And you don't have to feel ashamed for being where you are. All you have to focus on is one small thing you can do today to get closer to where you want to be. Slowly and lightly, one step at a time. You can get there.
—DANIELL KOEPKE
So what's included in the community membership?
Unique Prompts
Strategically move toward a calm, clutter-free home and life with unique prompts and hold yourself accountable with weekly Collaborative Uncluttering Meet-ups
Weekly Meet-ups
Talk about things that truly matter, breakthrough common stumbling blocks, and unclutter unhealthy mindsets during our come-as-you-are weekly Mindset Meet-ups and Connection Calls
Meaningful Connections
Safely ask questions, get feedback, and create meaningful connections in our private group (Off of Facebook and Social) and during our ongoing Connection Calls
Momentum
Ensure you keep taking consistent steps forward with Collaborative Uncluttering, Getting Unstuck Q&A chats, and ongoing inner work
The Answers You Need
Get private access to ALL group resources, including member-only uncluttering checklists, monthly published guides, and recorded meet-ups to find the answers you need
Exclusive Invites
Get exclusive invites to participate in Author Q&As, Mini-Workshops, and other community-only events to help you design a simple life
May you have the courage to begin breaking patterns in life that no longer serve you. Give yourself permission to pause and reflect. And remember, taking care of yourself doesn't mean "me first;" it means "me too."
— AUTHOR UNKNOWN
Membership pricing
Design the Simple Life You Really Want
Registration is currently closed. Request an invitation below to be the first to know when doors in January 2022.
monthly membership
$37/month
Opt-out of overwhelm, clear the clutter, and make space for a simple life
Annual discount
$370/year
Make an intentional commitment and save — Get 2-month free with the annual discount
Pay What You Can
$♥︎/mo
Each registration period we offer 5 pay what you can opportunities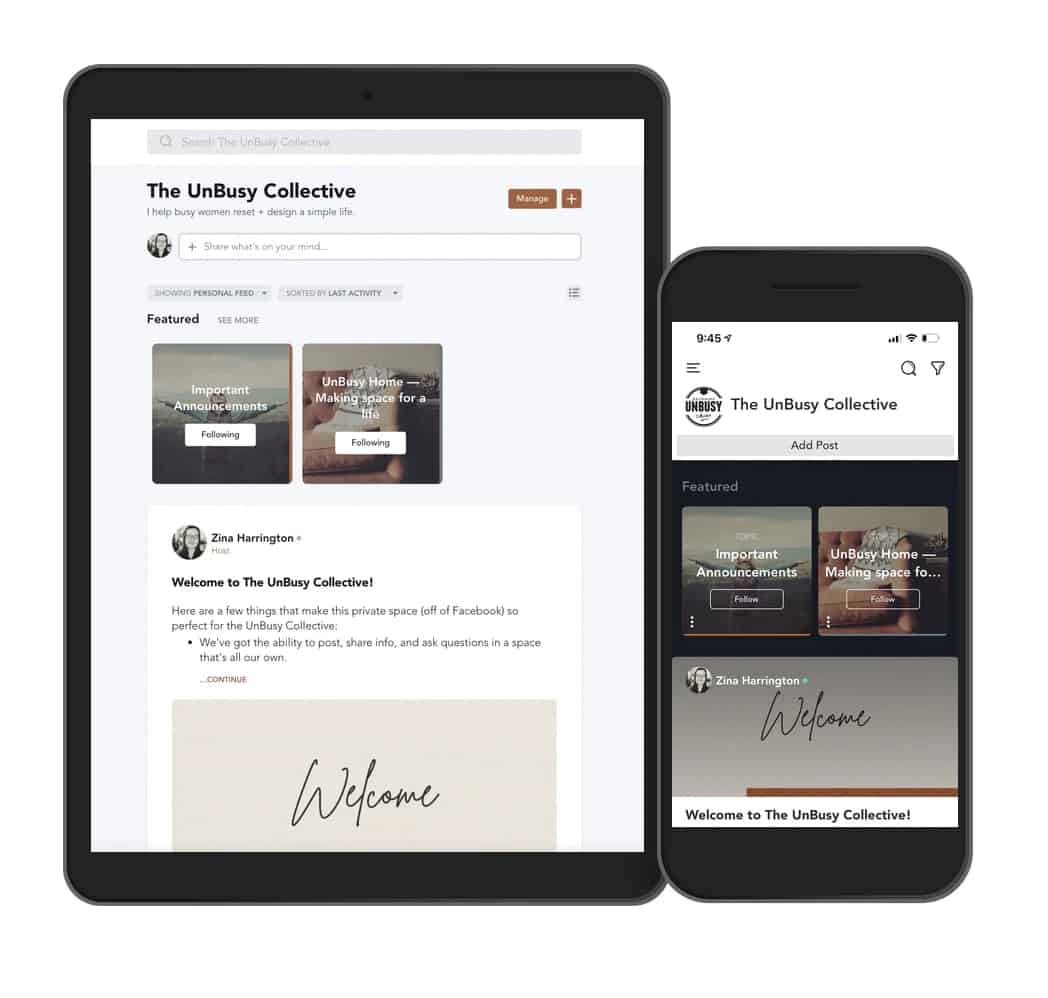 Voices From The UnBusy Collective
Welcoming Community
"The best thing about the UnBusy Collective is that however you are, you are received by the community. Wherever you are on the journey to a less chaotic and more tangibly enjoyed life. Come frazzled or centered, organized or a mess, it matters not, you are welcomed."
Clear Framework
"The UnBusy Collective sketches out a clear framework that helped me understand "my why," where I was starting from, and the next steps along the path (without boxing me in at any point). But then it goes even further; if you need the extra support, you can actually complete the decluttering tasks together during the 'Collaborative Uncluttering' sessions. Love it."
Deep Connects
"I have learned so much in this group. The way our collective sharing is facilitated so we each have our own voice (no added dialog or giving unsolicited advice) and then sharing what others said that helped us is soooo powerful. We hear inner wisdom from ourselves and those around us when we listen."
Surrounded by people who just get it
You shouldn't have to do this alone. That's exactly why the UnBusy Community exists.
Surround yourself with the people who understand your goals, speak your language, and know exactly how to support you in moving toward a simple life.
No matter where you are in your journey, we're here to nourish your soul, to help you reset, and to inspire you to uncluttered your life so you can thrive.
You deserve to be surrounded by people who just get it.
HUSTLE. ALIGN.
Destroy the idea that you have to be constantly working or grinding in order to be successful. Embrace the concept that rest, recovery, and reflection are essential parts of the progress toward a successful and ultimately happy life.
— AUTHOR UNKNOWN
Q&A
Q: Is this a course?

Nope! Becoming UnBusy is a monthly membership, with new content added each month. Many members join as a way to unclutter their homes and hearts within in a like-minded community while receive long-term support.
Q: What happens after I join?

After you join, you'll have immediate access to the private UnBusy Community (off of social). You'll also receive a welcome email with unique login details. Once you log in, paid members will have immediate access to the entire UnBusy Resource Library of content. You will also get new content and prompts delivered each month.
Q: How is the content delivered?

Each month's premium content will be added as a guide inside the private membership portal and announced via email. You can work through the content, guides, and prompts of any of your devices. There is an app as well!
Q: Once I join, can I upgrade or cancel my membership?

Yes! Once you join, it's easy to upgrade or cancel your membership at any time. You can try it out for a few months and see what you think or take advantage of the annual discount (where you get two-months free).
Q: When will my membership renew?

Your account will be charged on the same day that you sign up each month (or year) for as long as you continue your membership. If the price of UnBusy Community access increases, you will always be grandmothered in at your original sign-up price.
Q: Do you use Facebook?

Nope. Our social-media-free community is hosted on a private platform. Yay!
Q: What is your refund / cancellation policy?

Your membership may be canceled at any time. Due to the digital nature of the membership, refunds are not available.

This is a subscription service that will be billed monthly or yearly (depending on what you choose at checkout.

If you wish to cancel, you must do so before your next billing date which will be the same day each month. Please make note of the day of the month (or year) that your membership renews. Refunds are not granted once the payment has gone through.

Member's pricing gets locked in at the time they become a member. If you cancel and return in the future, you'll be subject to whatever price the membership is at that time.
PLEASE NOTE: This private community membership is for PERSONAL use only — it is not a resource for bloggers, writers, life coaches, or organizations.
Binge-Worthy Simple Living Reads
Not Sure The Community Is A Good Fit?
Ask questions here with absolutely no pressure, then decide if you'd like to join.
Connect With Us On Social
Get the latest Becoming UnBusy inspiration when you connect with us on your favorite social app. Want to opt-out of social media? Get updates in your inbox!