INSIDE: In a world that tends to cater to more, better, faster (and louder), do you just want just enough, slow, and quiet? Author of 12 Tiny Things, Heidi Barr, explains how introverts can embrace the calm of analog in this modern sea of noisy, digital chaos.
. . .
I pick up the record, the one with the tattered cover, and slip its black, round contents out of the protective layers of thin paper. After opening the cover of the turntable, I delicately place it on the spindle, brush off the dust, and flip the switch to "on." As the record starts to spin, I move the needle over just far enough to start the album at the beginning, and after a moment of descent followed by contact, the sound of music fills the room. I could have hooked up the iPhone to the stereo speakers, or even put a CD into the player, but there's something about records that keeps me dusting them off and taking the time to align the needle just so.
Perhaps that's what keeps me coming back: playing a record is tactile.
It requires a different sort of attention than scrolling through a playlist – enough difference to shift how the experience feels. There is less temptation to jump into some other digital thing after hitting 'shuffle'. Instead of one more thing in the background during a busy evening, when I play a record, I really listen to it. In the attentive mindset, I can notice the sound quality is a touch fuller, even though on the really old and beat up albums things get a little crackly. But that's part of it – scratches or not, it'll still play. Its analog nature lends itself to having the sort of staying power that I want more of, especially as so many elements of a human life adopt an increasingly digital presence.
In a world that tends to cater to more, better, faster (and louder), I want just enough, slow, and quiet. As a strong introvert, I crave the calm of analog in this modern sea of noisy, digital chaos.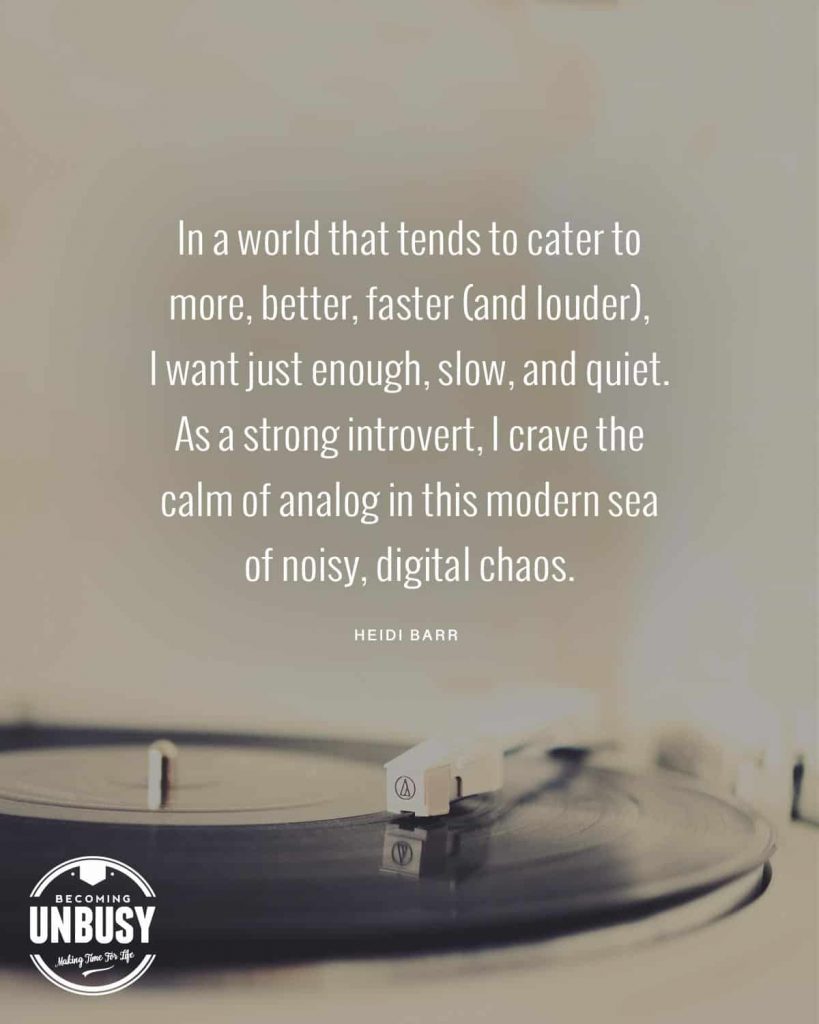 5 Ways to Embrace An Analog Lifestyle
Right then, so, how does one embrace analog in a world gone digital?
1: Play records. Read books. Attend live plays or concerts or poetry readings (when possible again...).
As illustrated above, being intentional about selection, having to mindfully prepare for the experience, and the fact that you can't just easily fast forward to get to the parts you want -- all of these details force the sort of attention that is often hard to come by in a scroll and click existence. I don't know about you, but I want more attention/intention and less scroll/click. More theater/literature, less "next episode" on Netflix.
2: Cook from scratch.
Food is a pretty significant part of a human life, so this must be stated. As easy as convenience food is, it makes a difference to prioritize setting aside the time required for selecting, cooking, and mindfully enjoying what you eat. Eating at home also requires less interaction with crowds and strangers, which is a bonus for those who value their alone time. You can still order takeout sometimes, and there are plenty of meals you can prepare with very simple ingredients. Less eat and run, more savor and enjoy.
3: Wander.
Even though there are SO MANY THINGS to do, there is much value in allowing the list to fall to the wayside and drift now and then – even if it's just for five minutes in your mind while seated in your office chair with your eyes closed. A whole day of wandering alone in the woods is a fantastic way to reconnect with the slower pace that is lost in a digitized world, but just five minutes of mental meandering can have a positive impact. More wander, less frenzied list completion.
4: Create.
It's easy to just head online to buy a new picture to hang on the wall or some socks to replace the ones with the hole or a birthday card for your mom. It takes more time and effort to paint a picture or knit some new socks or craft a card. But what if you, at least sometimes, took the time and energy required to make what you want yourself? Dusting off your creativity has the power to create all sorts of ripples if you can push past the fear of getting it wrong toward just starting. Less get it now/perfectionism more one step at a time/imperfections add character. Also, your mom would love it.
5: Learn, or re-learn, how to navigate.
Rely less on the little voice in the phone to tell you where to turn next and really pay attention to where you are in the world. Paper maps are sometimes missing new roads and need to be updated. But relying on your brain and sense of direction (and perhaps even the kindness of a fellow human) seems like a good thing. Asking a real person for directions sounds terrifying to most people, even the extroverts, these days - but there is value in human interaction, no matter your personality type. You might be surprised how empowering it is to reclaim ownership of your directions. Less disembodied voice/GPS, more compass/community.
I have found that my sanity as a modern human depends on fostering the right balance of analog and digital in this digital-focused world. In a nutshell, this is what helps me: Being where I actually am. Developing the capacity to notice the details of the days. Reclaiming my attention from that which wants to make it a commodity on the open market. Having the stillness of mind necessary to discern when to push out of that comfort zone and when to stay put.
Use new technology, but don't let it use you.
Old school might not always be the best choice (I mean, a paper map in the middle of a huge city at night in traffic? No thanks). But sometimes it is. Especially when it comes to how we're showing up in everyday life. Less fragmentation, more focus. Less distraction, more presence. Less chaos, more calm. Less digital, more analog.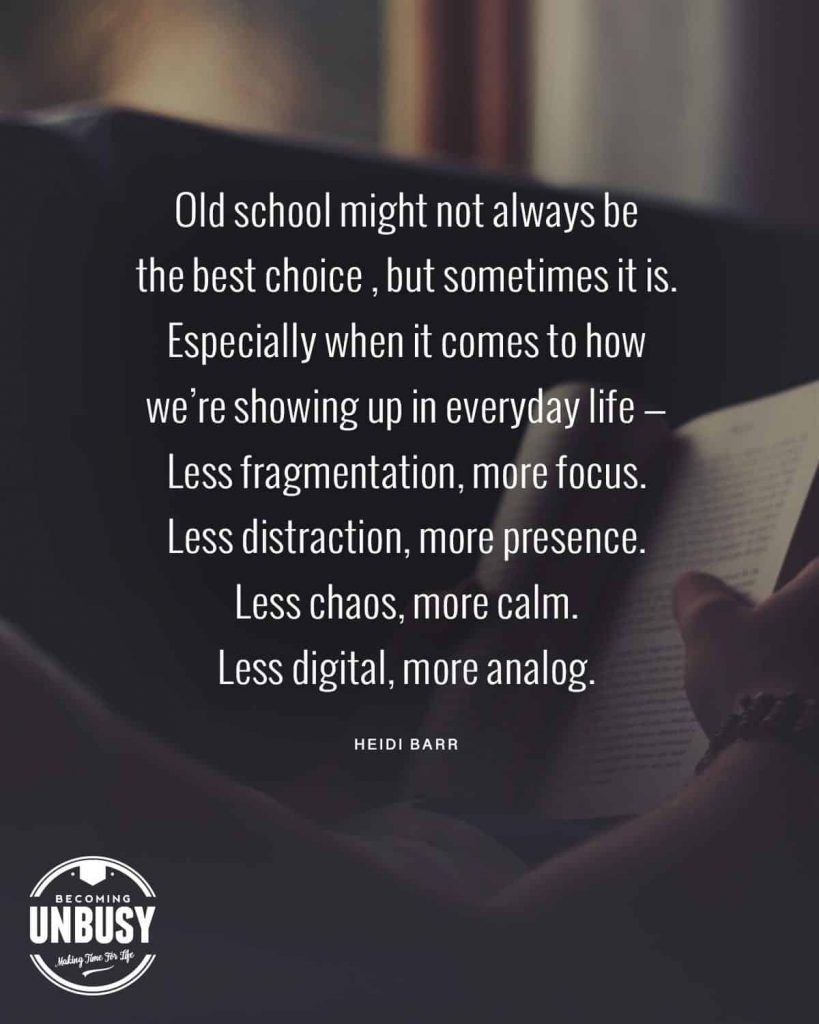 . . .
Heidi Barr lives in Minnesota with her husband and daughter where they tend a large vegetable garden, explore nature, and do their best to live simply. As a wellness coach, writer, and co-founder of 12 Tiny Things, she is committed to cultivating ways of being that are life-giving and sustainable for people, communities, and the planet. Her latest book, Cold Spring Hallelujah was released November 2019, and 12 Tiny Things: Simple Ways to Live a More Intentional Life is due out in January 2021. Learn more about her work at HeidiBarr.com.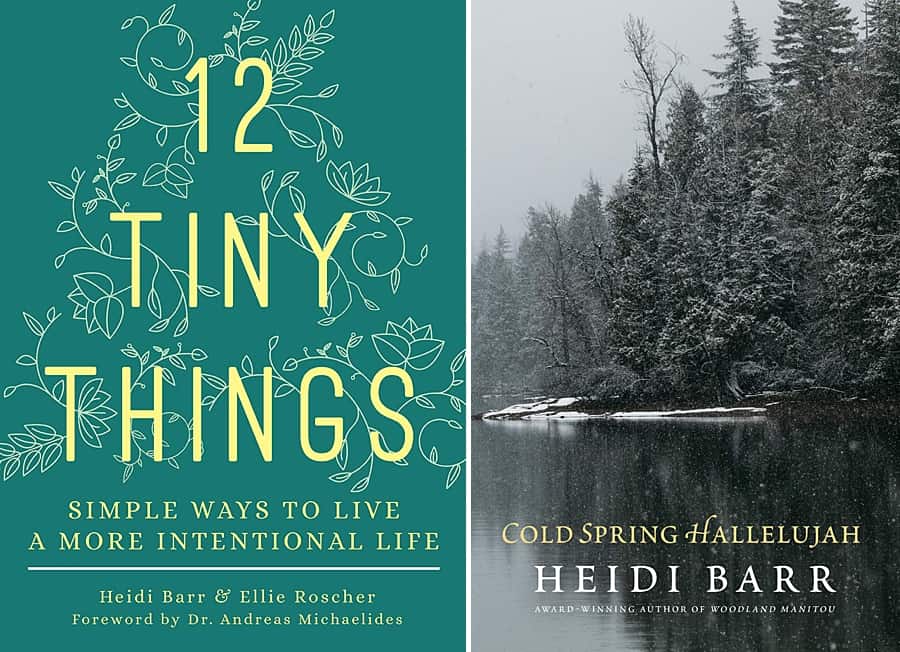 Love this simple living post? Sharing it would make our week. 💛
It would make our week if you took a second to share this post on your favorite social media spot. That's how we know we're on the right track and should continue writing more posts like this!