Feeling overwhelmed by a constant urge to check the news? Below are five tips for breaking the cycle and opting out of the overconsumption of media.
. . .
Have you been obsessively watching and reading the news lately? It is easy to get caught up in a non-stop cycle of consumption; licensed psychotherapist, Whitney Goodman explains ...
"We start watching the news and consuming it. We want to know everything. The more informed we are the better, right? But then we realize we are consuming a lot. We feel like we know a lot and have some control over the situation. We also feel like we're going to explode if we see one more clip or read one more line. So we take a break.
But then we need more. It feels like an addiction. It feels like 'I have to know what is going on right now or I won't be prepared, or ready, or safe.' So we consume more media. And around and around we go."
If you are a highly-sensitive or anxious person, hyper-vigilance might make you feel safe at first. You tell yourself that if you're on high alert, you're protecting yourself and the people you love. Longterm, getting stuck in a cycle of non-stop media consumption is unhealthy and ends up creating additional anxiety.
*See media consumption cycle diagram below.
The media consumption cycle gets harder to break because we get a rush every time we engage with the news reports. Susan Weinschenk Ph.D. explains...
"When you bring up the feed on one of your favorite apps the dopamine loop has become engaged. With every headline you read or link you go to you are feeding the loop which just makes you want more."
In other words, the more times you spin around and around the media consumption loop, the harder it can be to get off. So let's take care of this straight away.
5 Steps For Opting-Out of Overconsumption of The News
Below are five tips to help you opt-out of overconsuming news.
1. Set a specific time when you will view the news.
Be intentional and allow yourself a set number of news check-ins each day. Avoid looking at the news right away when you wake up or right before you go to sleep at night.
When you do access the news, try to focus on sources that report information and science vs opinion pieces created to evoke emotion.
2. Turn off non-essential notifications on your devices.
Turn off all extra notification on your phone. You don't need multiple news outlets trying to catch your attention throughout the day.
If possible, shut down your phone at night to resist defaulting to the news if you struggle with bouts of insomnia.
3. Set boundaries with people who are sending you articles.
If you have a family member or friend texting articles or video, ask them to limit shares.
Give yourself permission to "Facebook pause" or unfollow people and pages on social media that aren't providing helpful information.
4. Have a 'news briefing' each day with someone you trust.
Make a habit of discussing the news of the day with someone you trust, AKA an informal 'news briefing.' This will help you feel connected and also allows you to continue to evaluate information and news sources.
*Another option is to sign-up for an impartial and comprehensive daily summary of the news.
Additional Resource: 25 Helpful Things to Say to Someone Whose Anxiety Is Skyrocketing (and 5 to Avoid)
5. Be aware of the addiction cycle.
You've already taken the first major step toward opting-out. You noticed your overconsumption was making you anxious and now you're aware of this vicious cycle.
As Barbara Benedek once wrote...
"More isn't always better. Sometimes it's just more."
The next time you find yourself engaging in this cycle, ask yourself:
What am I looking for here?
What do I want to feel?
What do I need?
Remember, my friend, Becoming UnBusy isn't "doing nothing." It is about developing mindsets, routines, and habits that take the chaos out of everyday living, so you find time to focus on what really matters in YOUR life.
Founder of the Collaborative Counseling Center in Miami, and radically honest psychotherapist, Whitney Goodman, reminds us that we cannot find safety through the overconsumption of media...
The only way we can create safety is within ourselves and the immediate world around us. We won't find it outside right now. We have to find safety in our relationships, our routines, our rituals, and our homes.
Additional Resources: Discover healthy tools, routines, and mindsets with our free 21 Day Anti-Anxiety Challenge.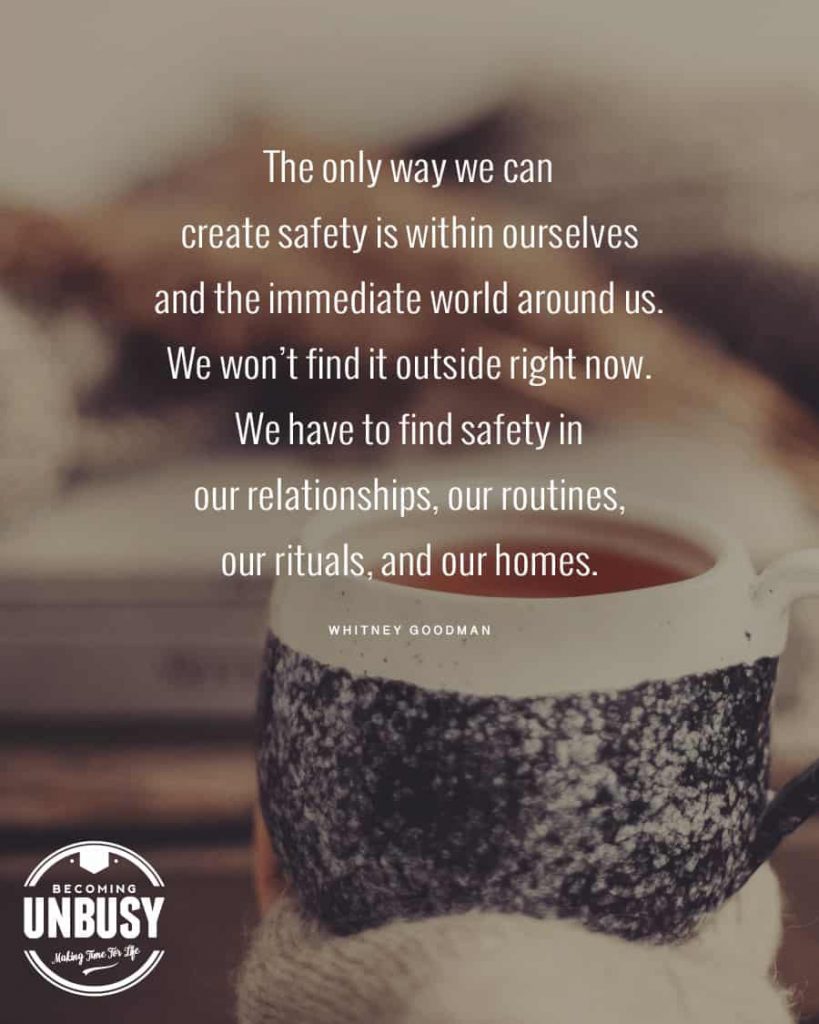 Read it with me again — find safety within yourself and through connection with the people you love most in this world. Make that your focus today. xoxo

P.S. If you are on Instagram, I hope you will take time to check out and follow Whitney Goodman, LMFT. She's a great resource!
Pin this piece for later: