Earlier this year, our entire family committed to THIS as part of our UnBusy new year resolution — we're so excited to share more about it with you!
———> OUR FAMILY'S TOP UNBUSY GOAL <———
BUT right now, I'm ready to kickstart the season change with a quick cleanse. How about you?
I am SO excited for the Get Rid of 100 Things Challenge this weekend!
. . .
Get Rid of 100 Things Weekend Challenge With Kids!
I am SO excited you're interested in doing a Get Rid of 100 Things Weekend Challenge with your family. We've been doing these quick challenges with our girls for years; it is entirely family-friendly. It is more fun if you get your kids involved!
Below are five ways to make sure the 100 Things Challenge is fun for your family:
1 | Offer a family incentive.
Encourage your kids to participate by offering an incentive for hitting your family goal.
Make this incentive a solid reason to get out of the house and DROP OFF YOUR DONATIONS STRAIGHTAWAY. You don't want the items lingering and finding their way back into your home.
Here are a few things that have worked with our girls in the past:
Going out for a special lunch after donating our 100 Things at the Salvation Army
Getting baking supplies for making mint-fudge brownies at the grocery store
Stopping for ice-cream cones after dropping off items at Goodwill
Going out to get extra-butter microwave popcorn and M&Ms for a special movie party
Dropping by the library to pick up picture books (if you've got little ones) for a living room reading party after donating at the Women's Center
You know your kids best. What will make them excited?
2 | Keep it light.
When doing the 100 Things Challenge with your family, keep your language positive. You don't want your actions or words to unintentionally provide a negative connotation to your children (or our partners, for that matter!).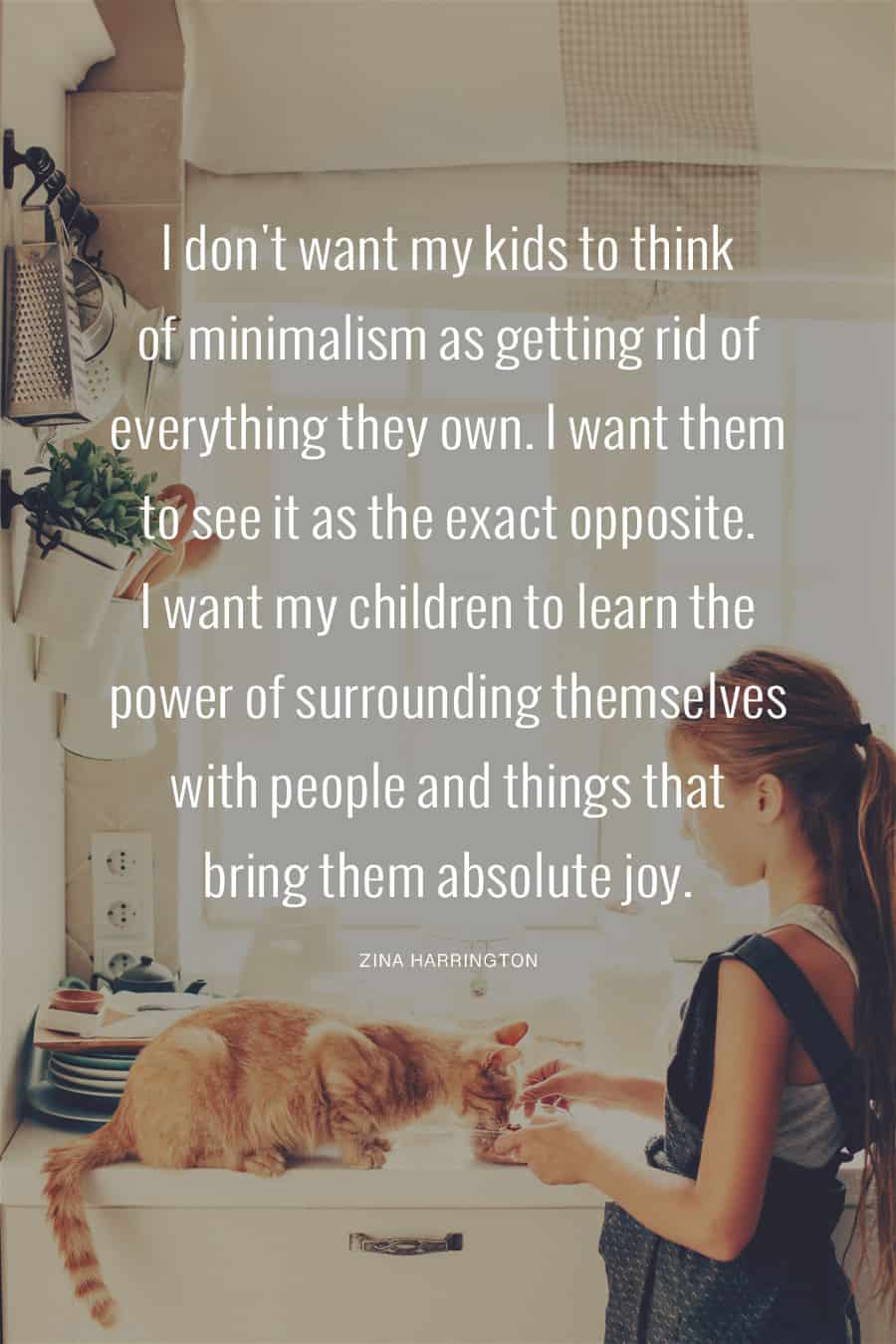 Here are a few simple tips to keep the focus on the fun:
Don't pressure your kids to give up their clothes or toys, instead start with less emotional items (like socks with holes, mittens/gloves that are too small, or books they don't care for). They might surprise you by throwing some stuffed animals or jeans into the donation pile!
Don't judge your child's donation choices. I am always surprised by some of the things my kids are ok with donating. If you've got a really young participant and you're genuinely concerned about something they are getting rid of, set it aside and keep it someplace discrete (hidden in your closet for example) to see if they request it later.
3 | Divide and conquer.
Working together to hit a family goal of 100 Things is a bonding experience. At our house, we split our goal evenly. With a family of four, each of us searches the house for twenty-five items to discard. If you've got younger kids, consider skewing the numbers. Perhaps parents rock thirty-five articles each while your children both aim for fifteen.
4 | Make it playful.
There are so many ways to make the 100 Things Challenge super-fun. This weekend, consider…
Tracking how many items you get rid of on a chalkboard or use our free score card (PDF) — put one of the kids in charge of tallies
Making it a race to see who can find the most things the fastest
Taking silly photos or videos (and sharing them in the Private Facebook Group or on Instagram #GetRidOf100Things)
Making a time-lapsed or stop-motion video of your pile growing
Playing your favorite music and dancing while you declutter
Going berserk when you hit 100 Things (and challenging them for another 100!)
5 | Grab these two FREE printables.
Keep yourself motivated.
This easy challenge helped our family uncover the hidden ways our 'stuff' had been weighing us down and helped us realize how much time we waste on caring for (and organizing!) our things. Unbeknownst to us, doing the 100 Things Weekend Challenge was our first step toward an UnBusy Life. We're so glad you're going to give it a whirl!
It's time to ditch stuff and de-crapify your world. I know you will love this playful decluttering approach as much as we do!
P.S. As you wait for the challenge to start, here's a couple things you can do to get ready:
Join the Private Facebook Group for ongoing, interactive community support throughout the 100 Things Challenge. You'll find great like-minded families sharing tips and ideas!
Connect with Becoming UnBusy on Instagram, then search for and follow the #GetRidOf100Things hashtag to see other families participating in the 100 Things Challenge with you this weekend.
Tell us a little bit more about you; we want to make sure that the challenge and our Becoming UnBusy content is helpful to YOU. I'm reaching out with a few questions, so we can gear upcoming articles toward specific topics that will help you and your family.
And remember...