Using Gestalt principles and the psychology of subconscious grouping can help you reduce visual clutter in your home without donating a single thing.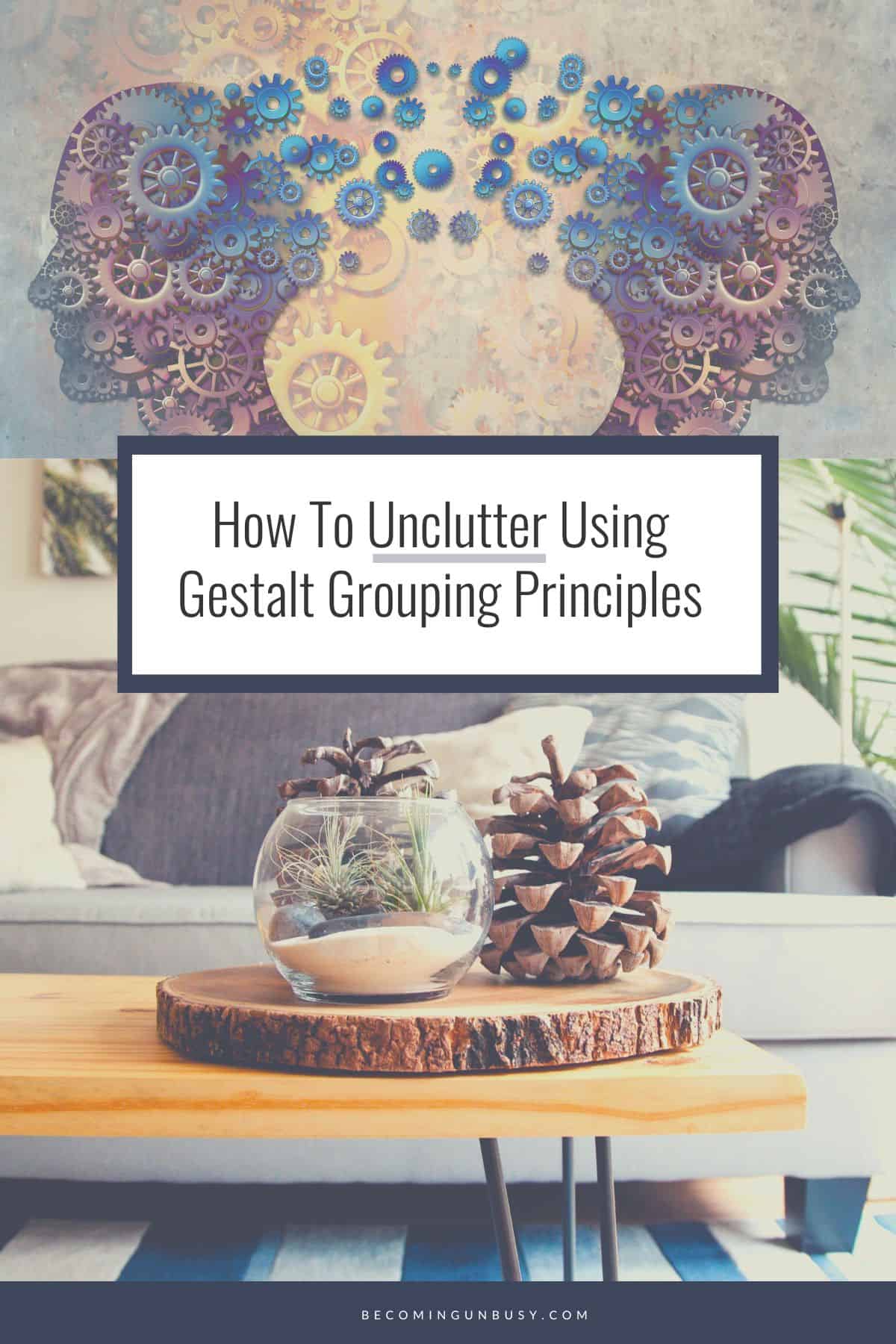 When we enter a home or even a room, we either feel peace or as if something is off — even if we cannot articulate why. Do you feel that way in your own home?
What if I told you that there is a possibility that your home will feel cluttered, no matter how much you minimize?
If it feels like you're constantly dropping off donation boxes and you cannot seem to find the finish line, it might be time to try a different tactic.
Jump to:
Unclutter With Gestalt Principles
Hello, I'm your brain.
Stop ignoring me.
While reducing clutter in your home is a great first step, having a peaceful home requires us to stop ignoring the psychology of groupings and design.
Using principles based on studies of the brain and neurological research you can reduce clutter without getting rid of a single thing.
The Gestalt principles below focus on how our minds organize and interpret visual data (1), including the clutter within our homes.
MEMBERS-ONLY: In the UnBusy Collective, we're doing a deep dive and learning about how to unclutter "for the mind" using the Gestalt Laws of Perceptual Organization. Get a sneak peek of some of the topics we're discussing below.

*Are you ready to opt-out of overwhelm? Join us and reset your home, habits, and life to make space for simple living.
What is Gestalt Psychology?
The foundational principles of Gestalt psychology explain how our mind groups things. A core tenant of Gestalt theory is holism, or the concept that the whole is greater than the sum of its parts (3).
In other words, our brains are constantly looking for patterns and groupings. Our minds do not focus on small visual details when trying to make sense of what we see in our homes (and in the world).
Gestalt psychology suggests that our brains prefer to group objects together and subconsciously simplify.
You can quickly see how understanding the basic Gestalt principles can be a powerful opportunity to reduce visual clutter in your home!
History and Current Uses of Gestalt Principles
In the early 1900s, German psychologists Immanuel Kant, Ernst Mach, and Johann Wolfgang von Goethe (2) influenced the development laws to explain how our minds group smaller objects to form larger ones (perceptual organization). They called this set of rules the Gestalt principles.
The German term gestalt roughly means "configuration" or how elements (or things) are patterned, placed, or put together to form a whole. There is no exact equivalent for the term in English.
While the foundation of Gestalt psychology dates back to 1912, there are still many current uses today. You can see the influences of Gestalt principles in therapy, graphic design, and product development.
Using Gestalt Principles To Create a Peaceful Home
Gestalt principles are also widely used and celebrated in today's world within User Experience (or UX) Website Design.
Just like with UX design, we can use Gestalt principles to focus on making the "user experiences" in our homes memorable. UX design would suggest...
Your guests and family will forget "the stuff" in your house, but they will always remember how your home made them feel.
Remember how we spoke about how when we enter a room, we either feel peace or as if something is off — even if we cannot articulate why?
If you've already done a massive amount of donations and your home still feels cluttered, understanding the Gestalt principles might help you create a better experience or the feeling you crave in your home!
The 7 Principles of Gestalt Psychology
Some of the most important principles of Gestalt theory are:
Law of Prägnanz (sometimes referred to as the Law of Simplicity)
Law of Common Regions
Law of Proximity
Law of Similarity
Law of Closure
Law of Uniformed Connectedness
Law of Parallelism
Learn about the seven principles below and how you can purposefully use each one within your home to reduce visual clutter, create connection, or live intentionally.
QUICK NOTE: The photos sourced below are to help visually explain the Gestalt principles. You don't need to have (or want!) a Pinterest-Perfect Home to put these "purposeful tips" into practice.

*Want to see photos of real everyday uncluttering? Join the UnBusy Collective to connect with women with perfectly-imperfect homes coming together to find ways to simplify. You are not alone on this journey.
Undestanding The Gestalt Principles
Strategies For Resetting Your Home & Life
If you found these Gestalt principles to be helpful, be sure to check out the UnBusy Collective. Each month, the group covers out-of-the-box strategies for simplifying.
If decluttering has become yet another thing on your to-do list, you've strayed too far from your original goal — a simple life.
It is easy to get wrapped up in a less is more mentality. If you're not Purposefully Uncluttering, minimalism can feel like another "keeping up with the Joneses" measuring stick.
Here's a harsh truth, my friend — when you busy yourself with mindlessly decluttering, you've artfully created a constant distraction that prevents you from seeing how truly ineffective it is…
Deep down, you've always known that real change will require more than cookie-cutter decluttering lists. If resetting your house was as easy as reading the right home hacks, you'd be done by now.
Get back on track with your intentional living goals and reset your home, habits, and life with the UnBusy Reset course and community membership!
Love this Gestalt Principles post? Sharing it would make our week. ♥
It would make our week if you took a second to share this Gestalt principles post on your favorite social media spot. That's how we know we're on the right track and should continue writing more content like this!
Gestalt Principles Sources
Vezzani, S, Marino, BF, Giora, E. An early history of the Gestalt factors of organization.
Bonacchi S, Czerniak S. Introduction: Gestalt as structure principles in science, art and language.
Jäkel F, Singh M, Wichmann FA, Herzog MH. An overview of quantitative approaches in Gestalt perception.