QUOTES ABOUT LIFE: Tackle the self-limiting belief of "hustle." Opt-out of this unhealthy fixed mindset and align with these positive words of affirmations.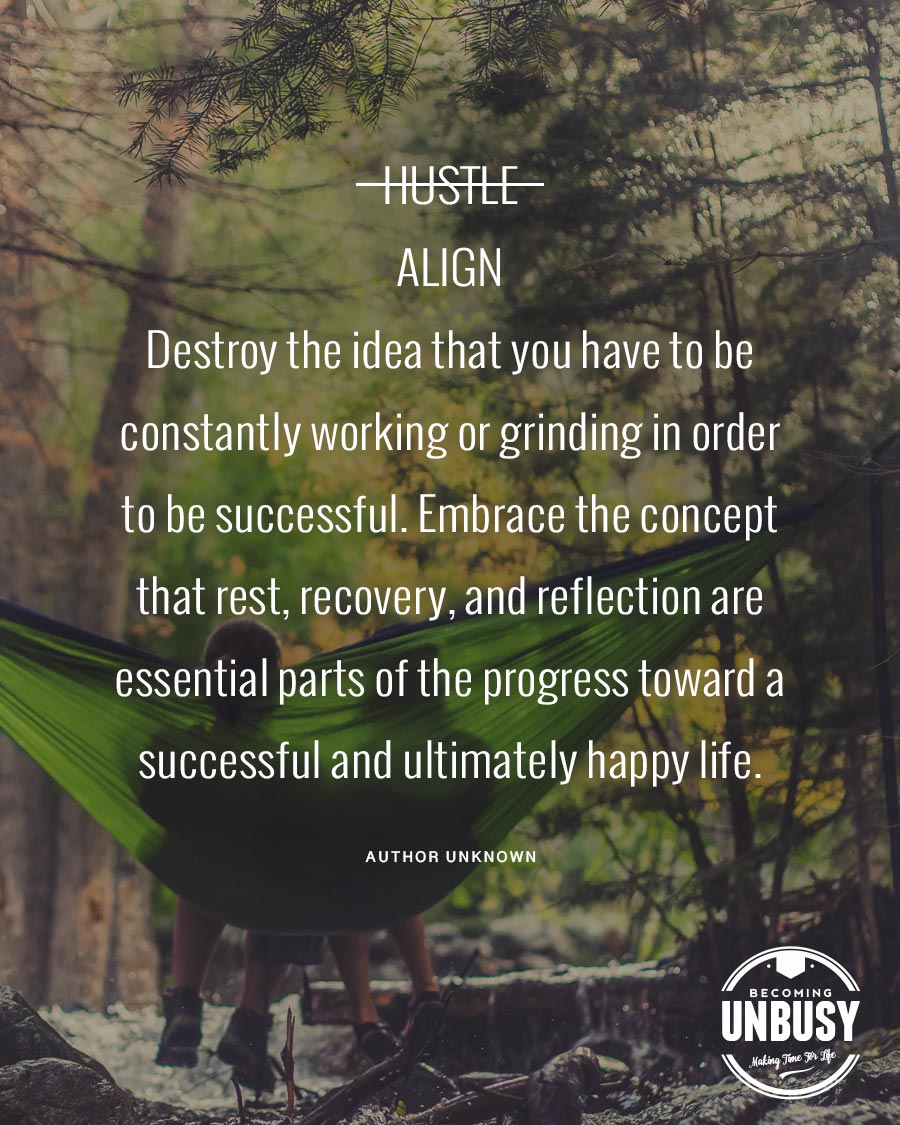 Quote of The Day
Hustle. Align. Destroy the idea that you have to be constantly working or grinding in order to be successful. Embrace the concept that rest, recovery, and reflection are essential parts of the progress toward a successful and ultimately happy life.
— AUTHOR UNKNOWN
1. Why does this life quote speak to you?
How did you end up here? What about this particular quote drew you in today? Take a moment to pause and think about why this particular quote speaks to you.
There is power in reflection, recognizing mindsets, and using words of affirmation.
2. Choose your words of affirmation
To move from a fixed mindset focused on hustle to a growth mindset of alignment, focus on the language of your thoughts.
Read through the growth mindset list below and pick one positive affirmation that speaks to you.
→ So much is changing. I am changing. My definition of success is changing too.
→ I am free to let go of the past. I am free to start again.
→ I am choosing to bravely step out of the grind and allow myself to slow down.
→ I am pursuing wholeness and happiness over hustle.
→ I am discovering as I speak my truth and tell my story, it makes space for new beginnings.
→ I am noticing the importance of reflection, and I am making time to rest and recover.
→ I am noticing I am worthy. I am worthy of support. I am worthy of a reset.
The goal is to determine which specific statement is "yours" and then reflect (or journal) on that particular affirmation this week.
3. Dive in to these binge-worthy reads
Here are a few additional resources to help you opt out of the hustle, align, and embrace an intentional life.
More Inspirational Quotes About Life
Looking for more life quotes or motivational words? Check out these "Quote of the Day" collections about intentional, simple, slow living.
Love these quotes about life? Sharing this inspirational quote would make our week.
It would make our week if you took a second to share this inspirational quote on your favorite social media spot. That's how we know we're on the right track and should continue writing more content like this! ♥