I want to share a simple truth with you — the path to an UnBusy Life has more to do with your STUFF than your calendar.
When you think of finding more time, your first instinct to turn to your calendar, right?
I cannot tell you how many apps I've tried over the years to better organize our family's time in search for an UnBusy life. When we look at our calendars to find time, we're overlooking the underlying problem. The truth is that one of the biggest time-sucks in our lives is our STUFF.
Our STUFF calls us to wash it, fold it, dust it, sort it, fix it, and clean it. Before we know it our stuff has kept us hostage and our life has disappeared into thin air. — Emma Schieb
The first time I did the 100 Things Challenge helped me realize what gets lost in everyday cleaning, picking up, and the chaos of a cluttered home — time with our families.
We get so busy trying to keep up with the constant clutter that we can start to lose sight of what matters.
After doing 100 Things, I realized that... less truly is more.
Things cause you to be busy in ways you'd never even expect. Not only does maintaining things take time, STUFF often forces us to stay in jobs we dislike, encourages credit card debt, and clutters our lives.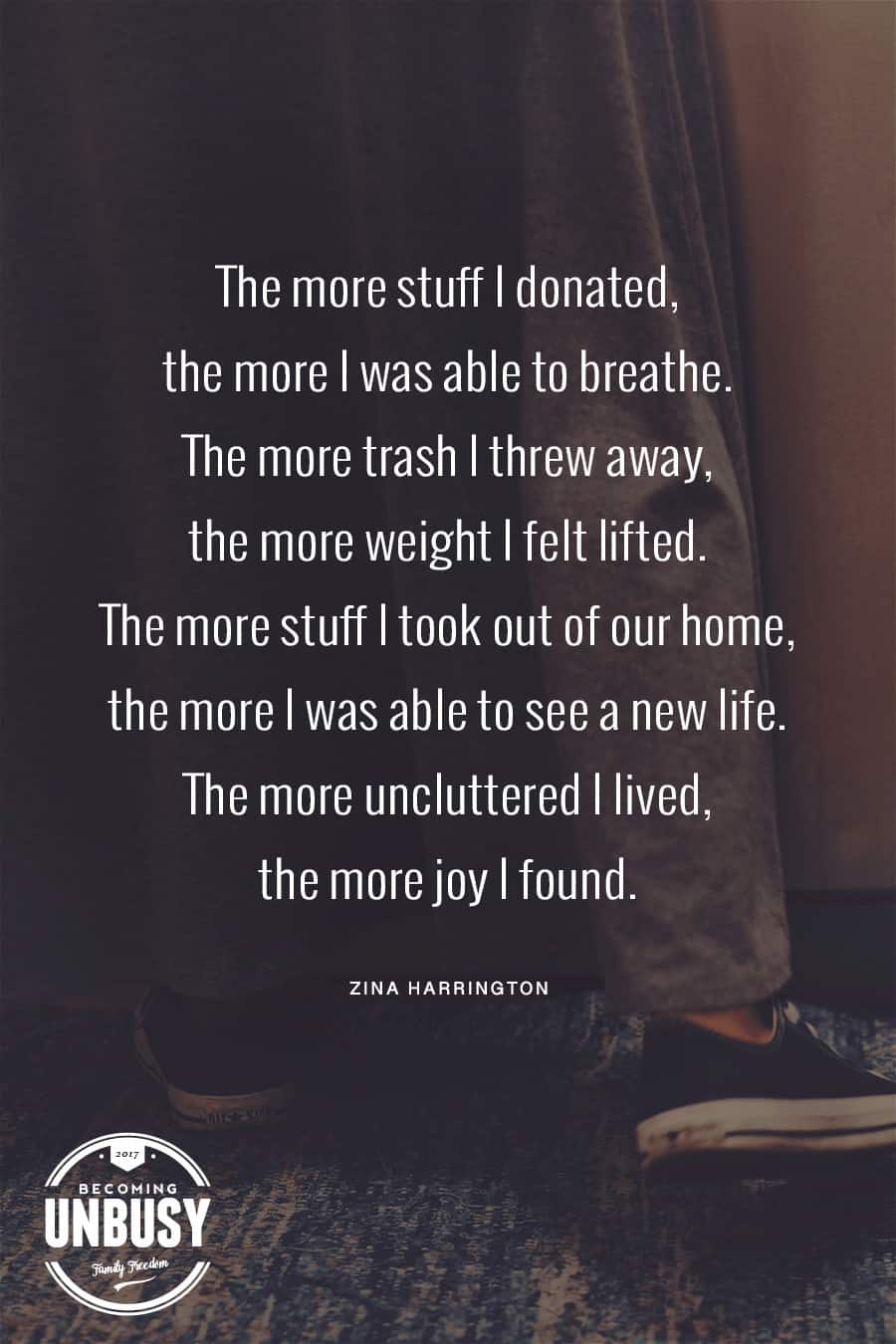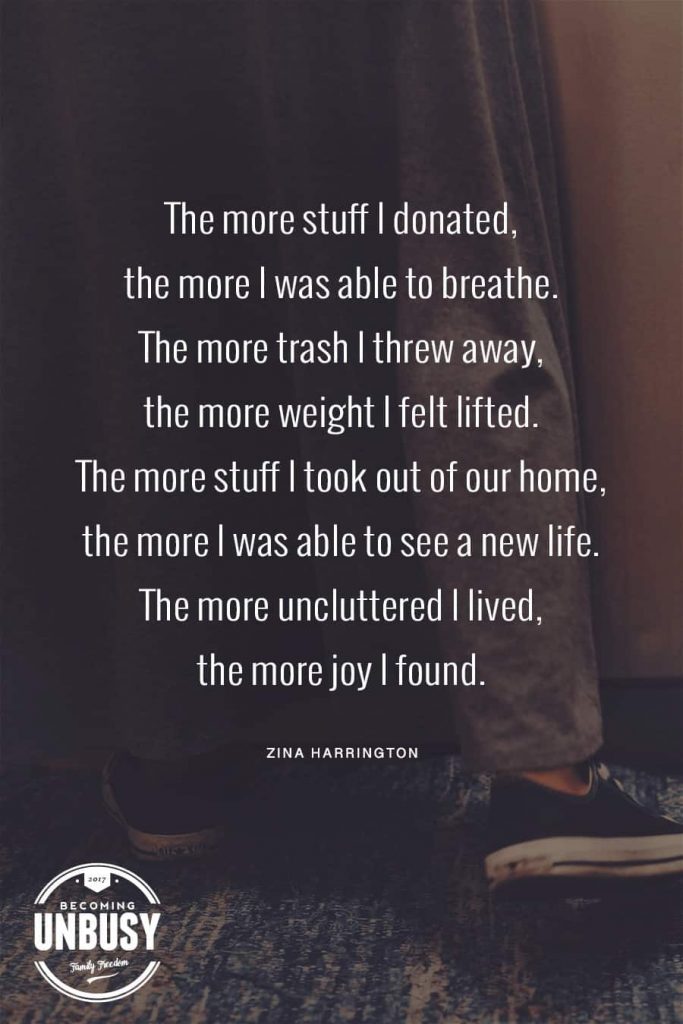 How Living Uncluttered Changed Our Life
Here's how living uncluttered has helped our family move toward an UnBusy Life:
We began our journey to UnBusy by decluttering our STUFF — This is an eye-opening process when you realize that everything you own used to be money. Participating in something like the Uncluttered Course can elicit dramatic change in your family's life over the course of twelve weeks.
We started to see our STUFF for what it was — And stopped trying to keep up with the Joneses. (They're broke, anyhow.)
Living uncluttered changed our relationship with our STUFF — Which allowed us to pay down all our credit cards, be debt-free, and adjust our schedules. The greatest thing money can buy is financial freedom and time.
Have you been feeling unknowingly weighed down by all your STUFF too?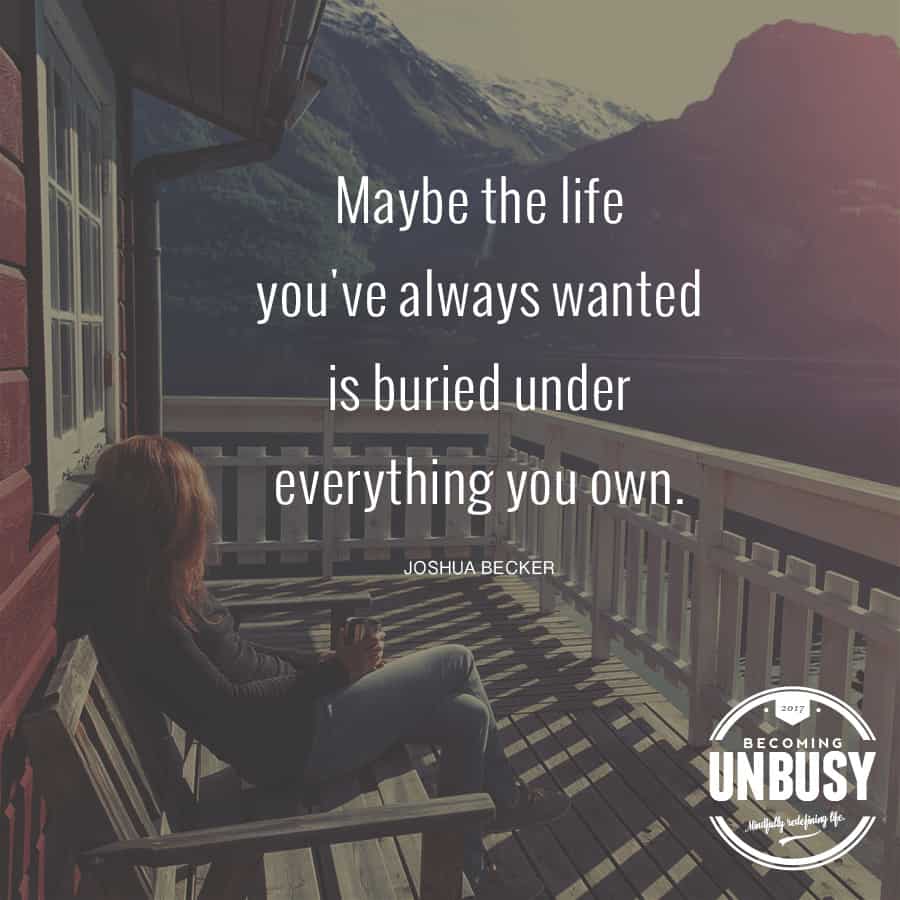 10 Ways Living Uncluttered Will Change Your Life
Becoming UnBusy is more about your relationship with STUFF than your schedule. As Joshua Becker said, maybe the life you've always wanted is buried under everything you own.
Over time, I discovered that less is more in life.
Less debt, more living.
Less spending, more savings.
Less junk, more quality.
Less cleaning, more time.
Less clutter, more purpose.
Less lost, more found.
Less house, more home.
Less mess, more peace.
Less stuff, more freedom.
Less busy, more calm.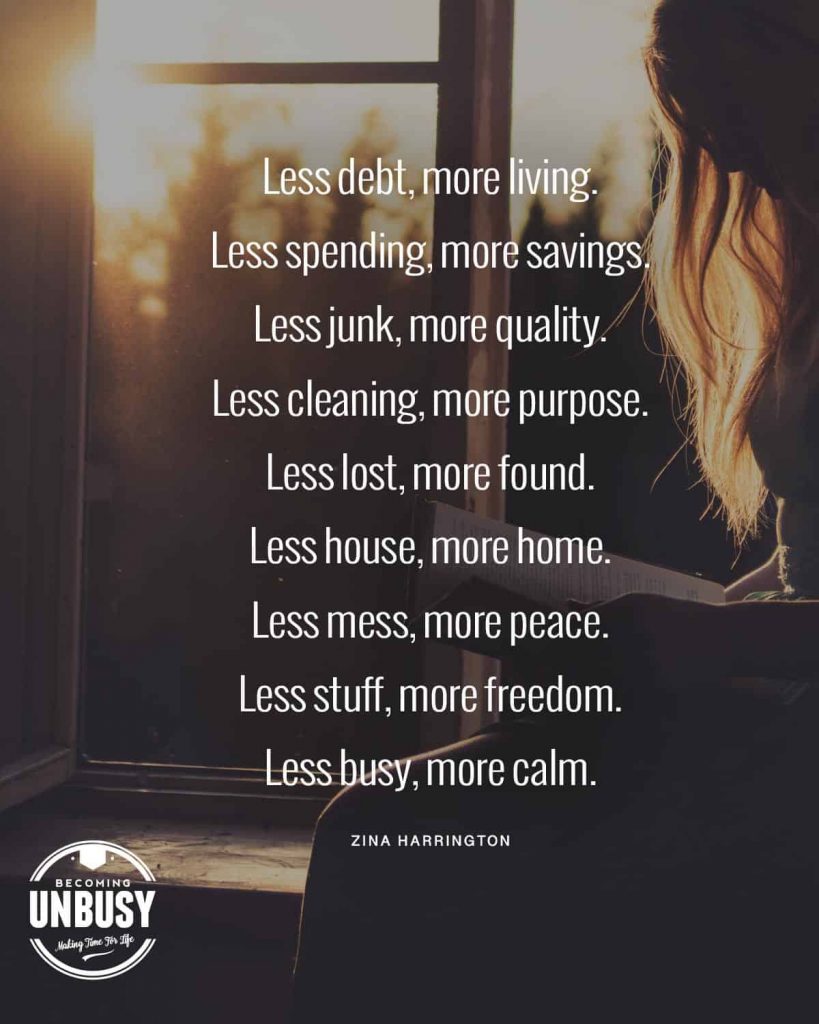 Getting Started
Imagine waking up with a sense of calm knowing you're taking real steps toward simplifying.
Imagine that room by room, your home becoming a place of peace, joy, and connection rather than a source of overwhelm.
When you become a member of The UnBusy Collective…
You'll develop mindsets, routines, and a home that takes the chaos out of everyday living, so you find time to focus on what really matters in YOUR life.
Connect with our private community (off of social) to unclutter, reset, and make space for a simple life.
Doors only open three times a year! Click learn more and join the waiting list for this exclusive simple living membership.
It's time to de-crapify your home and simplify.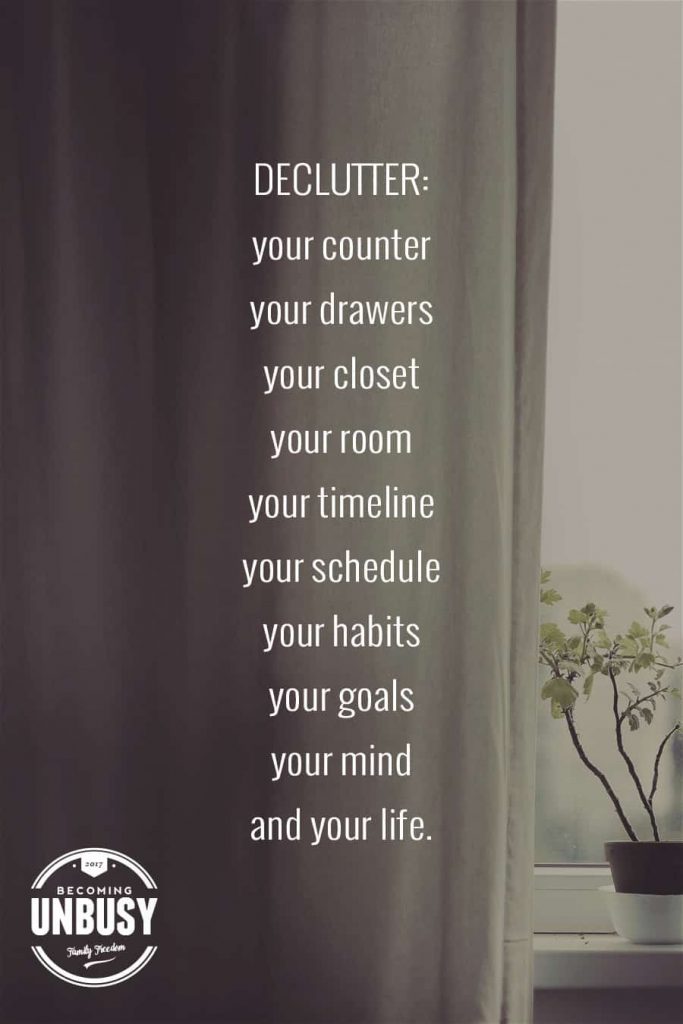 You Might Also Like