I want to share a simple truth with you — the path to an UnBusy Life has more to do with your STUFF than your calendar.
When you think of finding more time, your first instinct to turn to your calendar, right?
I cannot tell you how many apps I've tried over the years to better organize our family's time in search for an unbusy life. When we look at our calendars to find time, we're overlooking the underlying problem. The truth is that one of the biggest time-sucks in our lives is our STUFF.
Our STUFF calls us to wash it, fold it, dust it, sort it, fix it, and clean it. Before we know it our stuff has kept us hostage and our life has disappeared into thin air. — Emma Schieb
The first time I did the 100 Things Challenge helped me realize what gets lost in everyday cleaning, picking up, and the chaos of a cluttered home — time with our families.
We get so busy trying to keep up with the constant clutter that we can start to lose sight of what matters.
After doing 100 Things, I realized that…

Things cause you to be busy in ways you'd never even expect. Not only does maintaining things take time, STUFF often forces us to stay in jobs we dislike, encourages credit card debt, and clutters our lives.
I "met" Joshua Becker, founder of Becoming Minimalist and creator of the Uncluttered Course (a 12-week collaboration intentionally designed to help you own less and live more) online in 2008.
When I say met, I mean… I stumbled across all the fantastic resources he offers online.
It was life-changing for our family.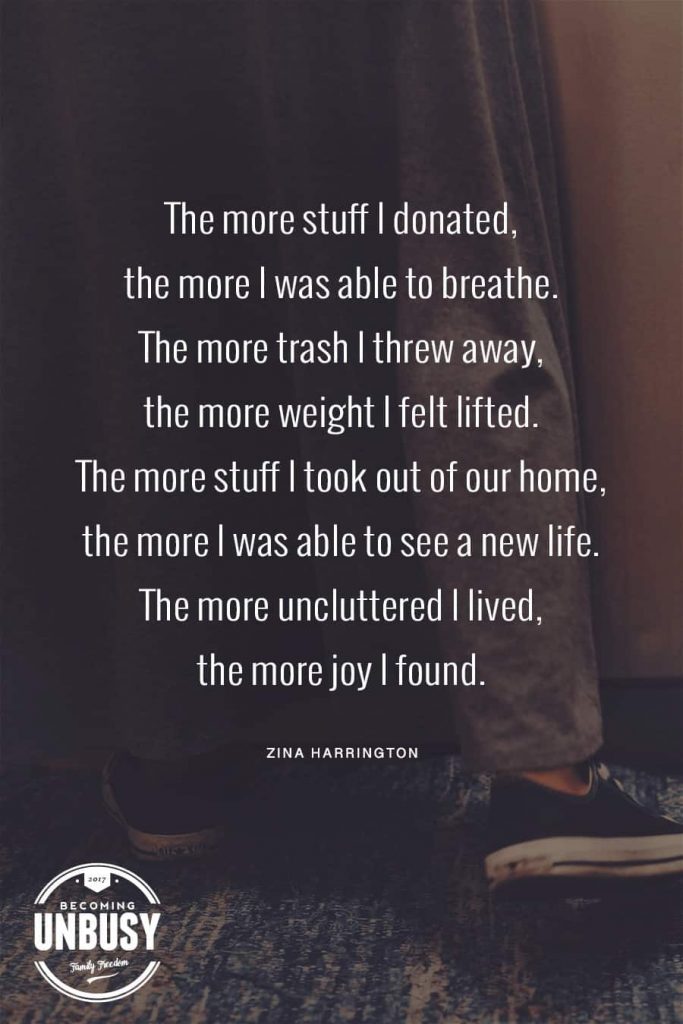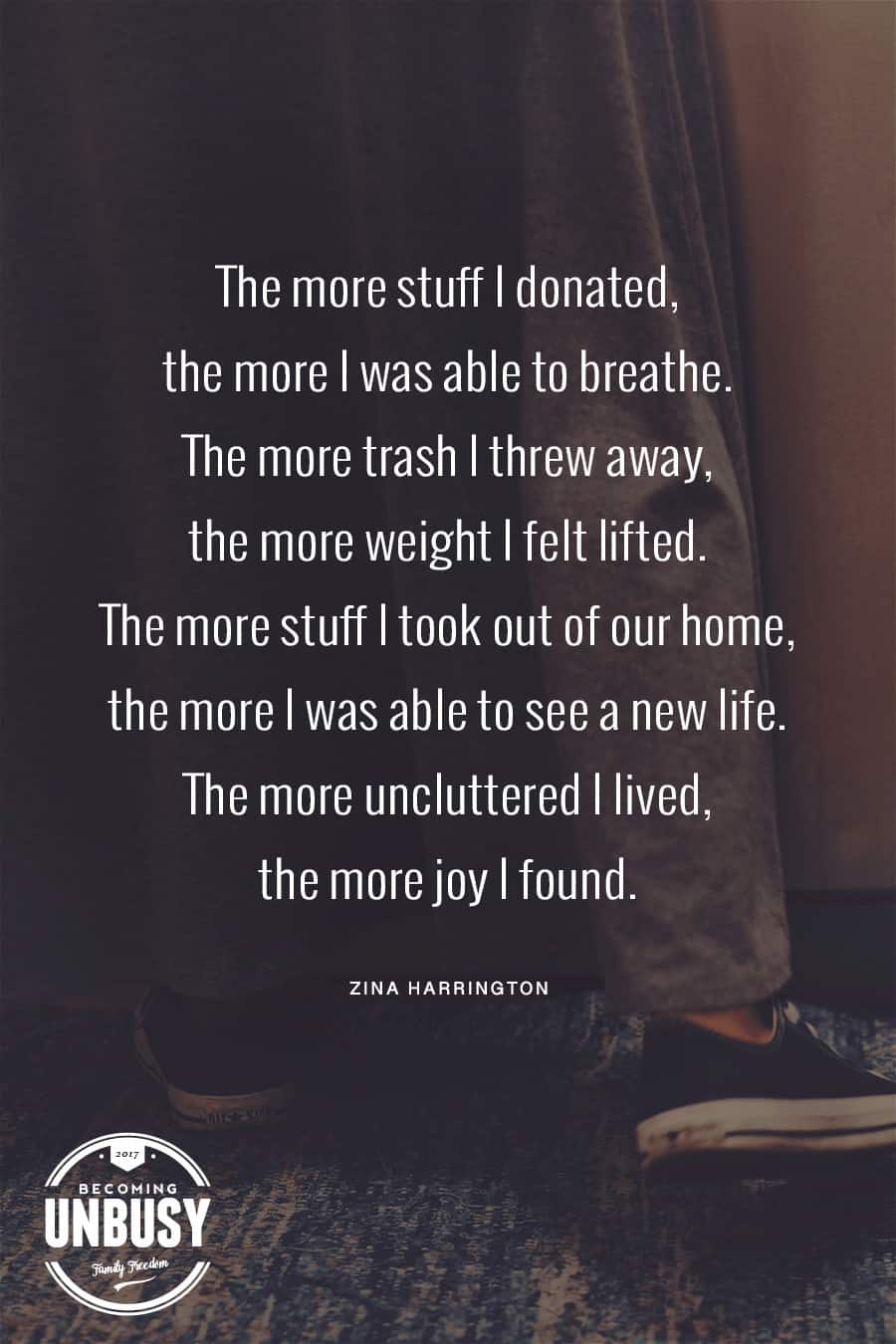 Living Uncluttered
We decided to ditch stuff and live life.
Our family invested in Uncluttered. This online course (and the community access that comes with it) helped us move toward an UnBusy Life.
Imagine getting home and seeing that everything you own is exactly where it needs to be. Counters clear… floors clean… zero piles of stuff that needs to be sorted and put away.
Over the course of 12 weeks, Uncluttered helps you remove clutter from the most-loved, most lived-in spaces in your home.
You'll start with easier spaces like closets and cars, and as you gain momentum and experience success, you'll move on to tougher tasks like photos and memorabilia.
Throughout the course, you'll drill down into your real motivation for decluttering — so you stay mindful of your purpose and working toward the UnBusy Life you desire.
Plus, you'll get helpful, practical guidance for carrying your new approach forward, like:
Example daily goals to keep clutter at bay, like cleaning the kitchen every night
Household space-saving hacks, like replacing multiple rolls of wrapping paper with one simple, elegant roll of kraft paper for all occasions
Money-saving experiments, like not eating out for a week or instituting a temporary shopping ban
And so much more.
This course (and the encouragement within the private community) was life-changing for our family.
Stop letting guilt & overwhelm stand in your way — you've got this.
How Living Uncluttered Changed Our Life
Here's how living uncluttered has helped our family move toward an UnBusy Life:
We began our journey to UnBusy by decluttering our STUFF — This is an eye-opening process when you realize that everything you own used to be money. Participating in something like the Uncluttered Course can elicit dramatic change in your family's life over the course of twelve weeks.
We started to see our STUFF for what it was — And stopped trying to keep up with the Joneses. (They're broke, anyhow.)
Living Uncluttered changed our relationship with our STUFF — Which allowed us to pay down all our credit cards, be debt-free, and adjust our schedules. The greatest thing money can buy is financial freedom and time.

Have you been feeling unknowingly weighed down by all your STUFF too?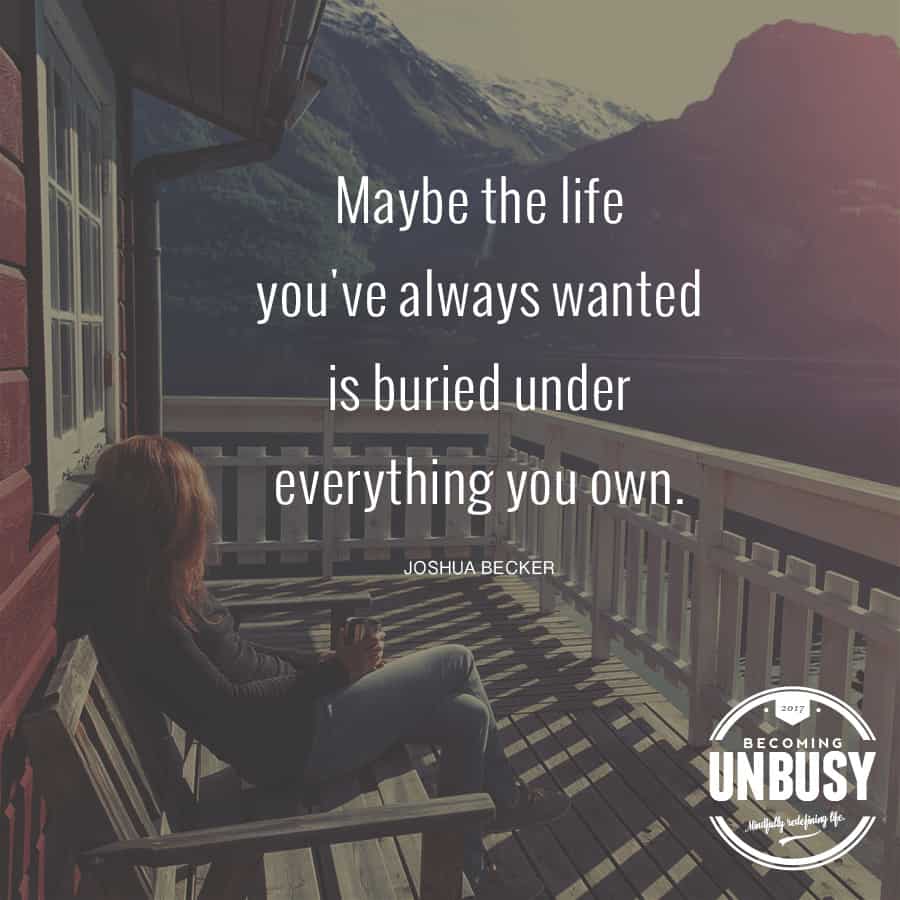 Although we changed our habits towards STUFF over ten years ago, I participated in the Uncluttered Course this spring as a refresher. It was reinvigorating.
If you're ready to ditch the burden of STUFF and seriously begin your journey towards Becoming UnBusy, this is a great starting point. The course keeps you on task with weekly challenges, videos, interviews, practical tips, accountability, and an engaged Facebook community. By the end, you will have decluttered every major living area in your home.
One of the best parts of the Uncluttered Course is the support you receive from, not only the live webinars but the private Facebook community. Over the 12-weeks, I was encouraged by community members sharing photos and comments about their progress, along with tips that helped them overcome struggles, as well as ongoing day-to-day encouragement.
10 Ways Living Uncluttered Will Change Your Life
Becoming UnBusy is more about your relationship with STUFF than your schedule. As Joshua Becker said, maybe the life you've always wanted is buried under everything you own.
As you take the Uncluttered Course, you learn that less is more in life.
Less debt, more living.
Less spending, more savings.
Less junk, more quality.
Less cleaning, more time.
Less clutter, more purpose.
Less lost, more found.
Less house, more home.
Less mess, more peace.
Less stuff, more freedom.
Less busy, more calm.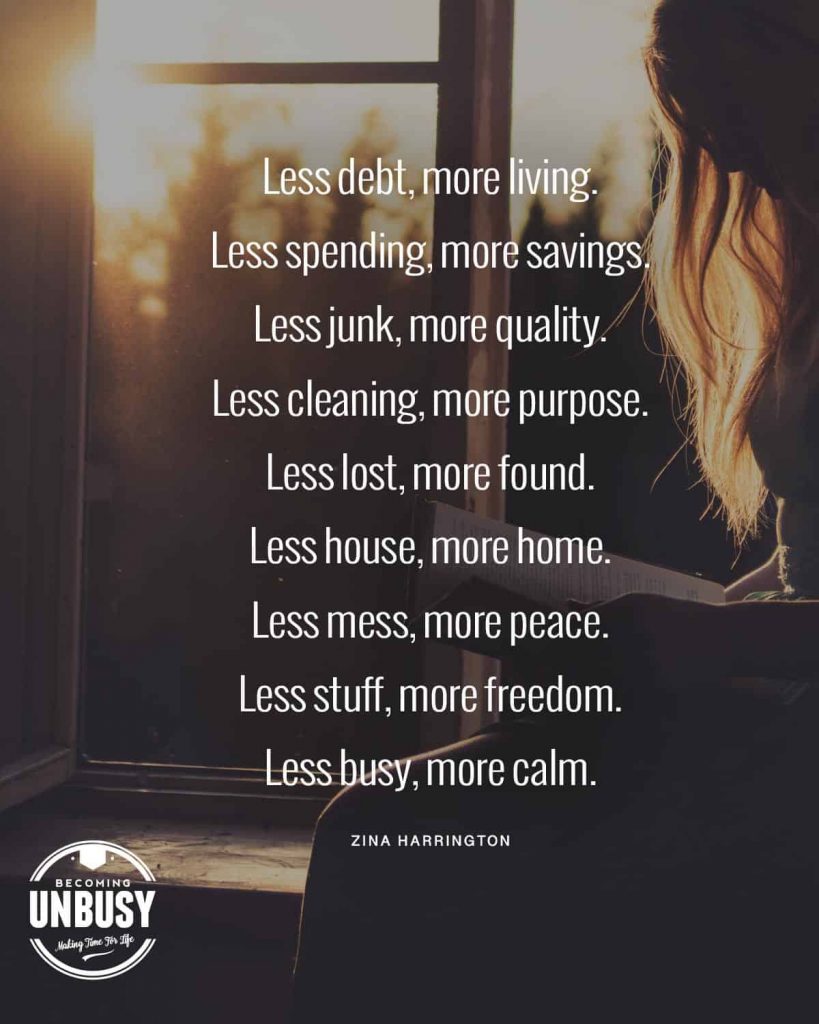 Here's the catch… Uncluttered is only offered four times per year. Registration for the next session begins soon. This is the ideal moment to step back and make a serious step towards and UnBusy life with your family. The registration period is short, so check it out today to ensure you don't forget.
If for any reason you aren't able to complete the session, you can take it on the next round in the new year for no charge. Once you've registered for the Uncluttered Course, you're a member for life. Every time I re-read or re-watch one of the lessons, we're at a different spot in our journey, so I find something new.
If you have any questions about the course or our journey towards Becoming UnBusy, pop into our Facebook group and let us know. We'd love to chat with you!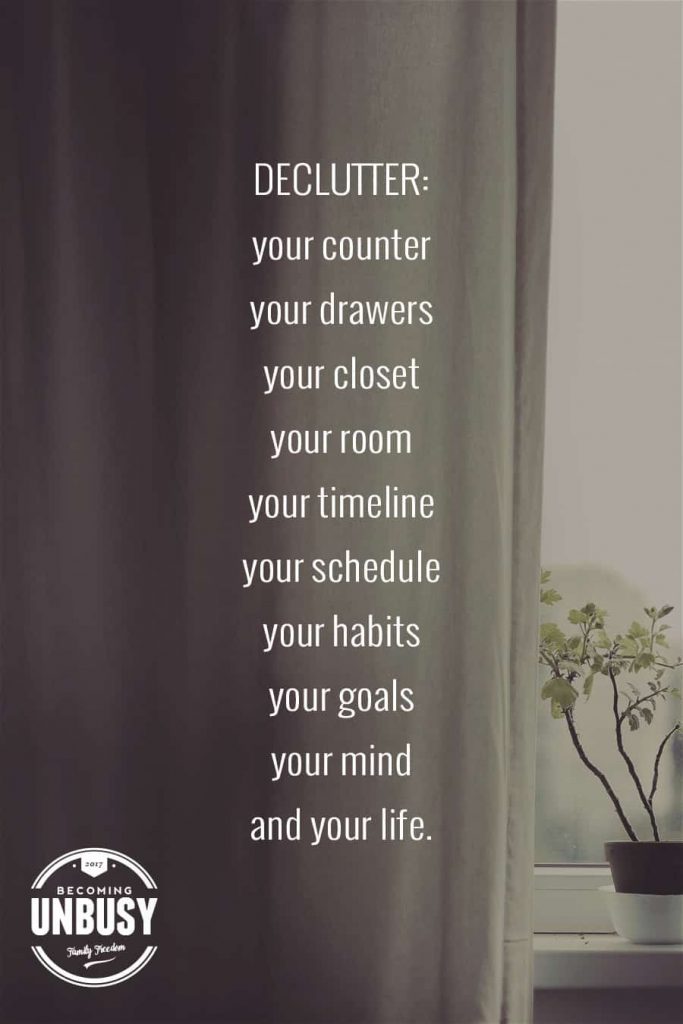 You Might Also Like