Globe string lights create an ambient environment that encourages us to slow down, rest, and relax. Learn why, where, and how to hang string lights in your backyard!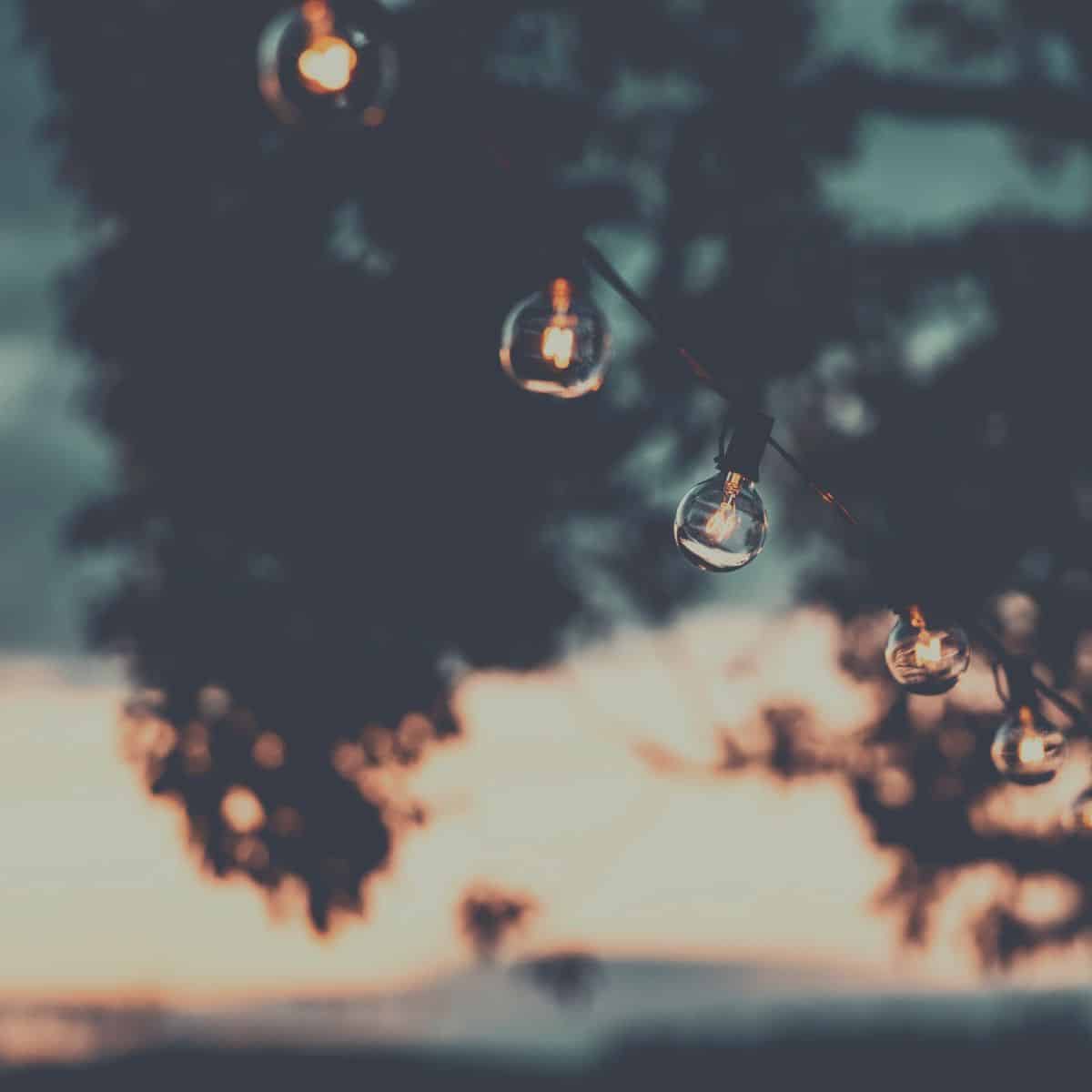 Jump to:
When you hear the word "self-care," what are the first few things that come to mind? Perhaps a hot bath, chocolate, maybe a bottle of wine?
Modern media often promotes self-care as indulgence. In reality, self-care usually involves small everyday choices that lack glamor.
Self-care is creating an environment that helps us opt-out, rest, relax, slow down and connect. Although it sounds silly, investing in and hanging globe string lights is a form of self-care.
How Globe String Lights Help Improve Your Mood
Here are five ways that ambient outdoor lighting help provides self-care and will improve your mood.
01. Outdoor Decorative Lighting Invites Us Opt-Out
Don't underestimate the value of something as simple as a string of lights. Having light strands illuminate your yard on an automatic timer can help motivate you to opt-out of watching tv or fiddling on your phone and opt-outside instead.
In review a review of research, Gregory Bratman, Ph.D., an assistant professor at the University of Washington, and colleagues shared empirical evidence that time spent in nature is associated with an increase in happiness, well-being, sense of meaning, and purpose in life (Science Advances, Vol. 5, No. 7, 2019).
Globe string lights invite you to spend more time outside when everything is quiet.
02. Mood Lighting Creates A Feeling of Warmth & Coziness
We are drawn to soft lighting when we want to slow down and unwind.
Ambient low-key lighting from globe string lights adds a feeling of "warmth and coziness" to outdoor spaces. Studies show that yellow tones or warm lighting help us gain deeper relaxation and feel more comfortable (Optica, Vol. 24, Issue 10, 2016).
A string of lights creates a cozy ambiance that can help reduce negative feelings and anxious moods. Add an outdoor couch to your space, and you've created the perfect unbusy evening escape.
03. Outdoor Strand Lights Help Us To Slow Down & Connect
Using globe string lights is a great way to create intimacy in your yard and set a casual and comfortable atmosphere for slowing down and connecting with the people you love most in this world.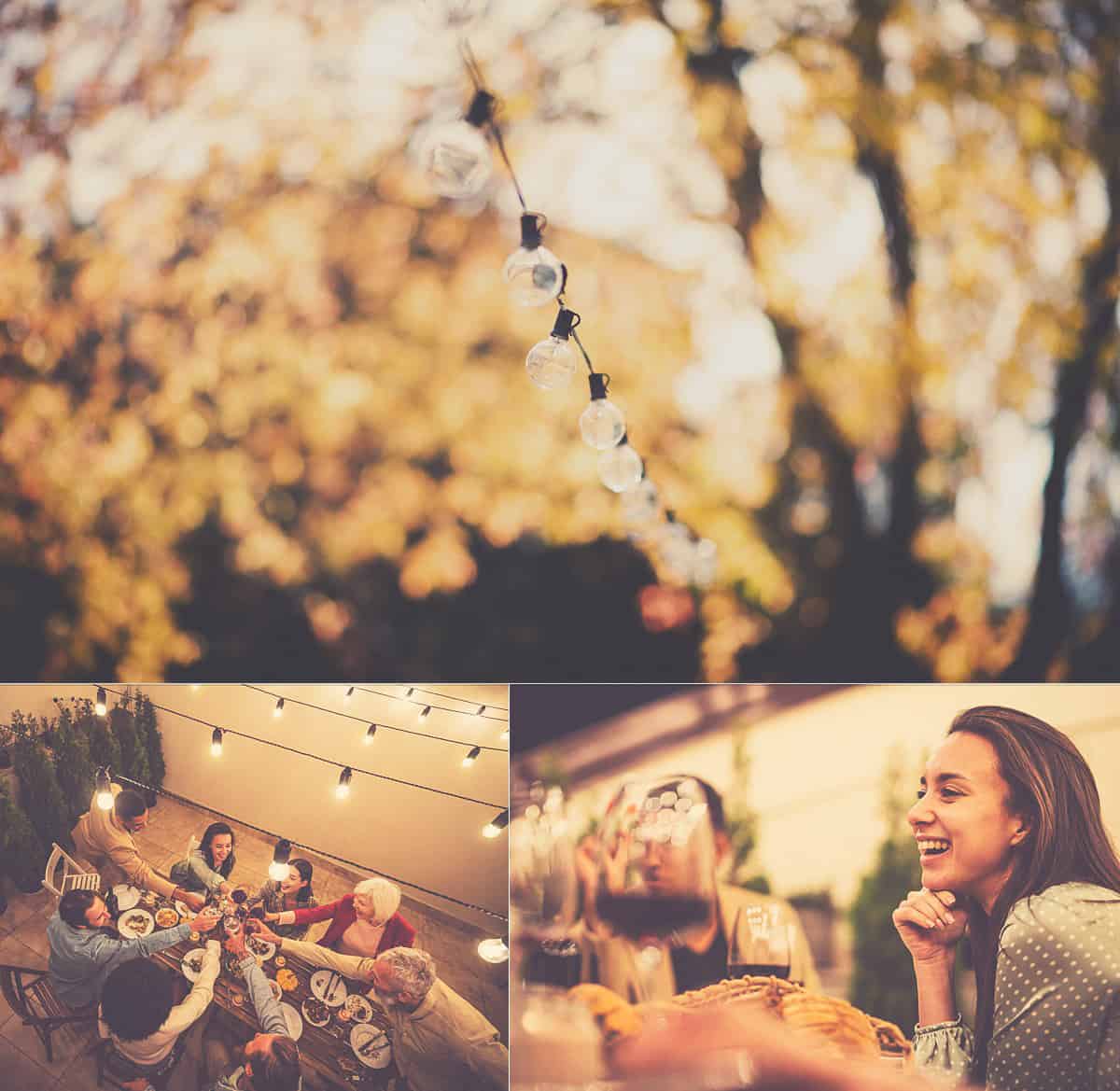 An old proverb and a good piece of advice...
You should spend 10-minutes outside every day, unless you're too busy — then you should sit for an hour.
Outdoor lights create the perfect hygge environment for family dinners, sharing stories with an intimate group of friends, or having a quiet evening drink.
04. Decorative String Lights Create Depth
We are not always aware of the power that light has in our daily life. Seasonal mood shifts increase when there are fewer hours of sunshine in the day.
If the darkness makes you feel claustrophobic, adding lighting strands to your yard adds dimension to the space.
Good outdoor lighting provides an amplifier effect, opening up your personal space beyond the walls of your home to include your backyard.
Outdoor strings of lights do this by giving your yard "depth" in the evening on short days.
The ambient yellow of the globe string light also provides the warmth we seek so much in the coldest months of the year.
A gentle reminder to also...
Embrace these short days. Curl up with a book, a candle, and a glass of something — coffee, tea, wine... Revel in the dark depths of winter — so beautiful, black, and so utterly without exception. Longer days will be with us soon enough. — Richard Street
05. Hanging Outdoor Lights Improves Safety & Security
Last of all, bulb string lights offer peace of mind.
Illuminating pathways, stairs, and drop-offs helps prevent falls. Outdoor lighting can help decrease the chances of you or your guests taking a nasty tumble in your yard.
Security is another benefit of outdoor lights. Backyard lighting that illuminates entryways, dark walkways, and garages, helps deter potential intruders from targeting your property as you rest.
At the end of the day, what really matters is that your loved ones are safe and well.
Globe String Light Ideas
Not sure where to hang your globe string lights? Here are some simple backyard ideas!
Outdoor fence lighting: String up outside lighting on your wooden fence
String lights on fence rails: Wrap bulb string lights around your metal fence rails
String lights on the deck: Outdoor deck light strands will enhance porch light
Globe string lights under the porch: Hanging cafe lights underneath a deck is a playful solution for bi-level homes
Outdoor tree lighting: Hanging tree lights is an easy way to improve outdoor lighting
Pergola globe lighting: Wrapping lighting stands around beams adds ambiance
Let go of outdoor lights needing to be Pinterest-Perfect. Globe string lights are a great go-to option for any yard, including yours!
Supplies For Creating Mood Lighting
Enhance your outdoor lighting with the following must-have supplies.
Measuring tape: Get a feel for how long your space is before purchasing your globe string lights
Globe string lights: Pick the shape, size, and appropriate length of hanging string lights for your backyard
Automatic timer: Ensure you enjoy the benefits of your outdoor mood lights by using an automatic dusk timer
Extension cord: Choose black, green, or brown to integrate power into the environment
Additional supplies depend on where you're hanging your globe string lights.
LED & Solar String Light Options For Green Living
The primary purpose of decorative string lights to enhance aesthetics. String lights consume very little power when compared to functional lights.
Many outdoor string lights are manufactured using energy-efficient LED light, which uses less energy and lasts longer than traditional incandescent bulbs.
Some outdoor lights are even powered by solar panel, which charges up automatically in the sunlight and then turn on at dusk.
Pick an option that matches your lifestyle best, meets your needs, and translates to a greener way of living.
How to Hang Outdoor String Lights
Need a quick overview of how to hang string lights? Grab your instructions here...
Share A Photo Of Your UnBusy Space
Lighting truly can help us slow down, relax, and connect.
If you decide to hang outdoor lights, snap a pic and share it with us on Instagram using the hashtag #unbusylight so we can admire your space!
Love this self care post? Sharing it would make our week ♥
It would make our week if you took a second to share this self-care post (or a quote from it) on your favorite social media spot.
That's how we know we're on the right track and should continue writing more content like this!