Autumn Blues catches people off-guard. You are not alone in asking yourself, "Why do I feel sad for no reason?" Learn why you may struggle.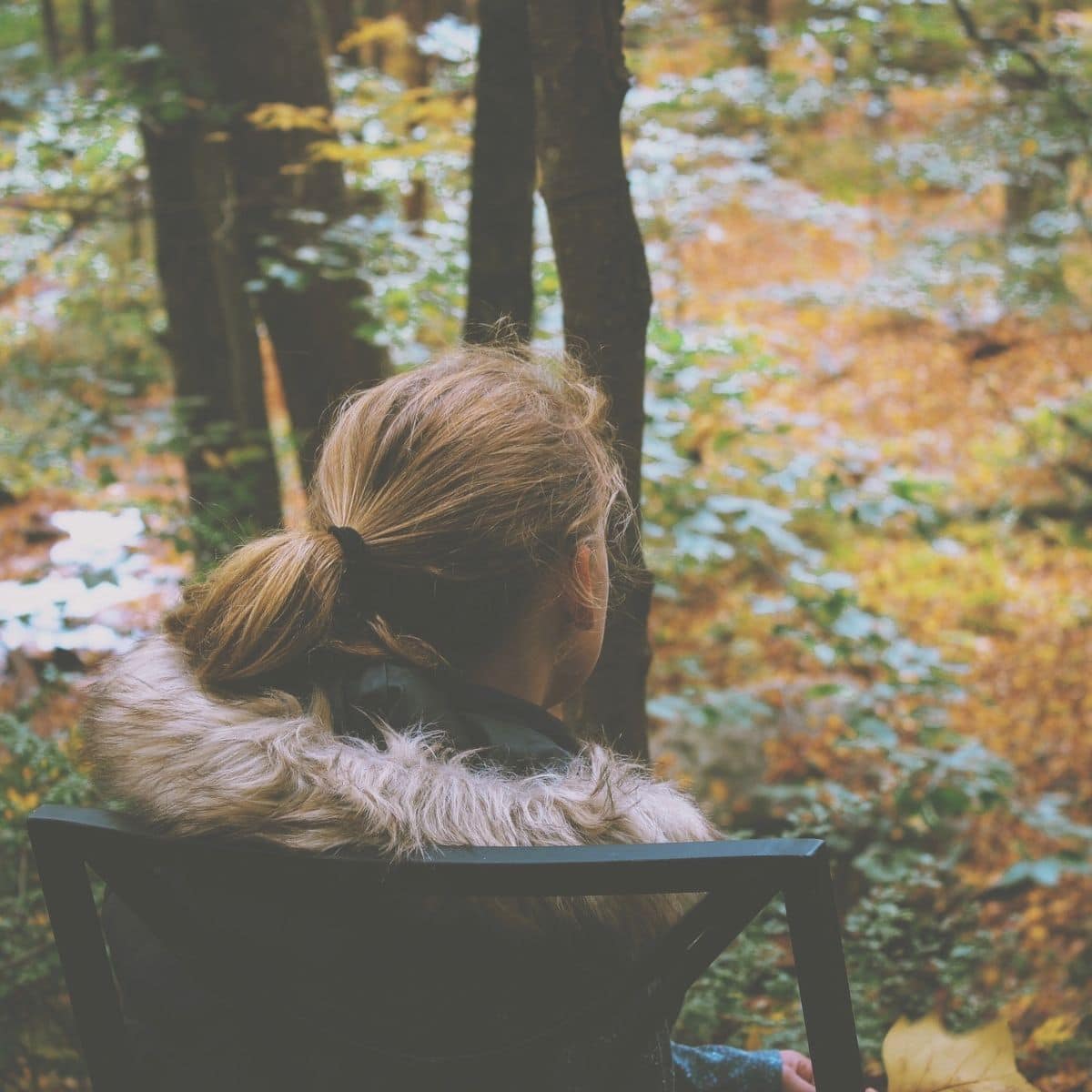 As the vibrant hues of early autumn gradually give way to the warm and earthy tones of fall, a significant shift occurs in nature and within ourselves.
Fall is often celebrated as an active time of beauty, transition, and transformation.
While you may have eagerly anticipated cozy sweaters, pumpkin spice lattes, and the scenic beauty of this season, you might still find yourself asking, "Why do I feel sad for no reason?" You are not alone.
For some, fall is a season marked by Autumn Blues — a sense of melancholy, restlessness, and overwhelm.
Understanding Autumn Blues
Autumn Blues often catch people off-guard.
Understanding the reasons behind Autumn Blues is the first step toward finding strategies to navigate the season more effectively.
In this post, you will find:
Subconscious reasons why you might be feeling low in the fall
Habits and workarounds for Autumn Blues pitfalls
Additional resources for moving forward
5 Causes of Autumn Blues
Below are five subconscious reasons you may be asking yourself, "Why am I sad for no reason?" The following things can lead to Autumn Blues.
1. Less Sunlight & Shorter Days
As autumn progresses, days become shorter, and daylight hours decrease.
People often reference struggles with Seasonal Affective Disorder (SAD) during the winter. However, most begin subconsciously feeling the physical loss of light in the fall.
Why this might subconsciously make you feel sad: The decrease in natural light can cause chemical changes in your brain, increase melatonin production, and disrupt your body's internal clock. This can lead to feelings of lethargy and sadness.
Autumn Blues workarounds:
Consider trying a wake-up light instead of a traditional alarm if you struggle with getting up in the morning
Spend ten minutes outside before noon to keep your internal clock on pace
Look for creative ways to infuse your life with light
2. Chilly Weather
With the arrival of autumn (in the northern hemisphere), temperatures drop, and many people find themselves spending more time indoors.
Why it might subconsciously make you sad: The chill in the air can make it less appealing to connect with friends outdoors. This can lead to a sense of isolation and reduced physical activity, both of which can contribute to low mood.
Autumn Blues Workarounds:
3. Loss of Outdoor Adventures
For those who enjoy warm weather activities like hiking, picnics, or gardening, deep autumn marks the end of the prime outdoor season in many regions.
Why it might subconsciously make you sad: Losing these unbusy activities can lead to a sense of loss and a decrease in physical and social engagement.
Autumn Blues Workarounds:
4. Fallen Leaves & Nature's Decline
As the leaves change color and eventually drop, the bare trees of autumn bring a unique blend of emotions.
Why it might subconsciously make you sad: While the fall foliage is beautiful, the sight of nature's transition to dormancy can symbolize loss and decay. This visual reminder of impermanence and change can be emotionally challenging.
Autumn Blues Workarounds:
Practice daily gratitude and write three things you're thankful for each day
Embrace the gentle reminder to opt-out of a default life and live with intention
5. Upcoming Holiday Stress
Autumn is the precursor to the holiday season, which can be a stressful time for many. Can you feel your shoulders tightening?
Why it might subconsciously make you sad: Holiday preparations, financial obligations, and family expectations can contribute to anxiety and depression. Plus, the pressure to mask, be festive, and be cheerful can be overwhelming for people who are neurobusy or already experiencing low moods.
Autumn Blues Workarounds:
Additional Autumn Blues Resources
Want to do a deep dive? You may find these additional Autumn Blues resources useful.
Did you find this Autumn Blues post? Sharing it would make our week ♥
It would make our week if you took a second to save or share this Autumn Blues post. That's how we know we're on the right track and should continue writing more content like this!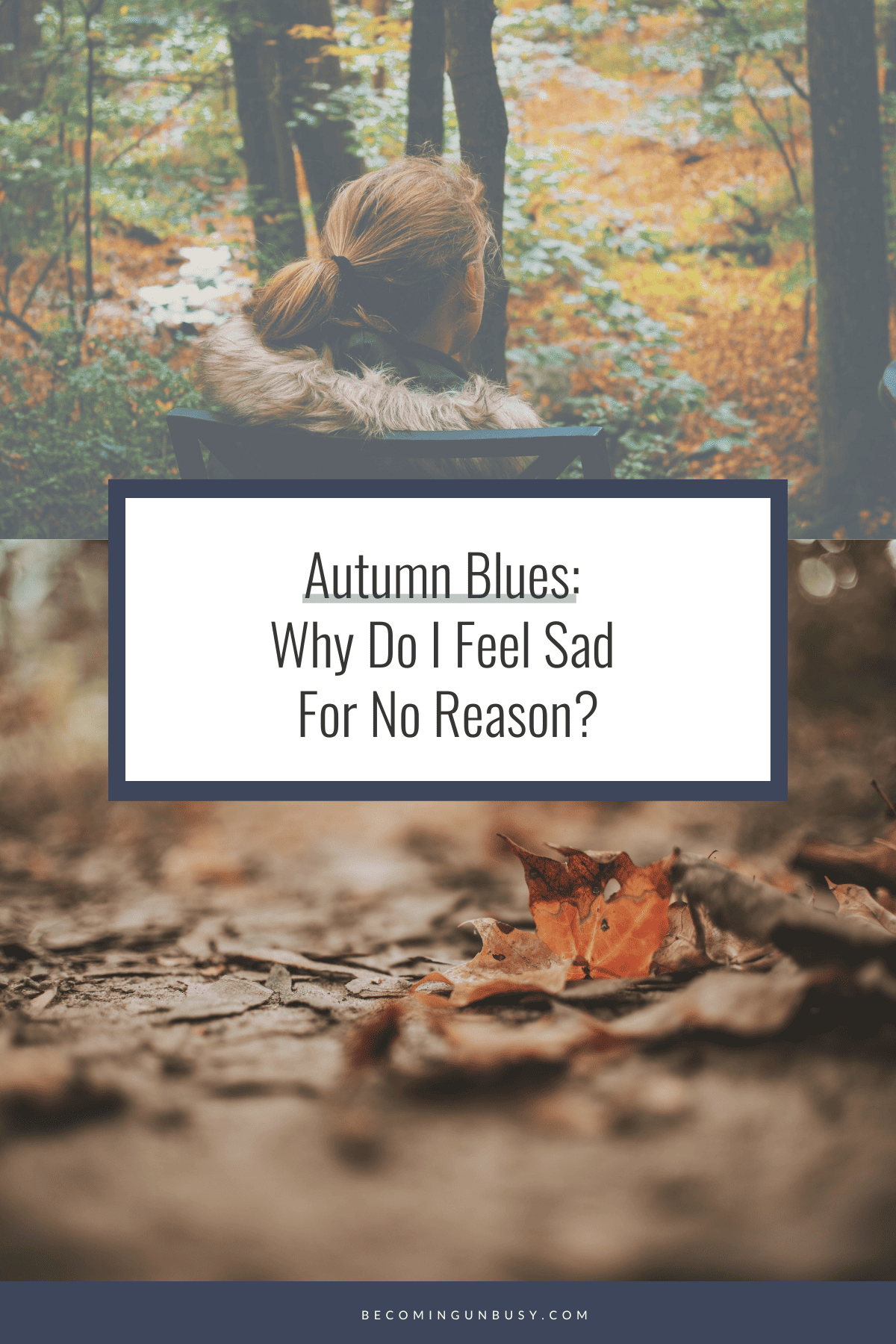 Important Disclaimer
The contents of the Becoming UnBusy website, such as text, graphics, images, and other material contained on the Becoming UnBusy website ("Content") are for informational purposes only. The content is not intended to be a substitute for professional advice, diagnosis, or treatment. Always seek the advice of your mental health professional or other qualified health providers with any questions you may have regarding your condition. Never disregard professional advice or delay in seeking it because of something you have read on the Becoming UnBusy website.
If you are in crisis or you think you may have an emergency, call your doctor or 911 immediately. If you're having suicidal thoughts, call 1-800-273-TALK (8255) to talk to a skilled, trained counselor at a crisis center in your area at any time (National Suicide Prevention Lifeline). If you are located outside the United States, call your local emergency line immediately.
Reliance on any information provided by Becoming UnBusy, others appearing on the website at the invitation of Becoming UnBusy, or other visitors to the website is solely at your own risk.
The website and the content are provided on an "as is" basis.